---
On April 30, the South Korean government announced, via the Defense Project Promotion Committee, that it formally approved plans for future Aegis KDX-III destroyers, and for an additional batch of three KSS-III submarines.
---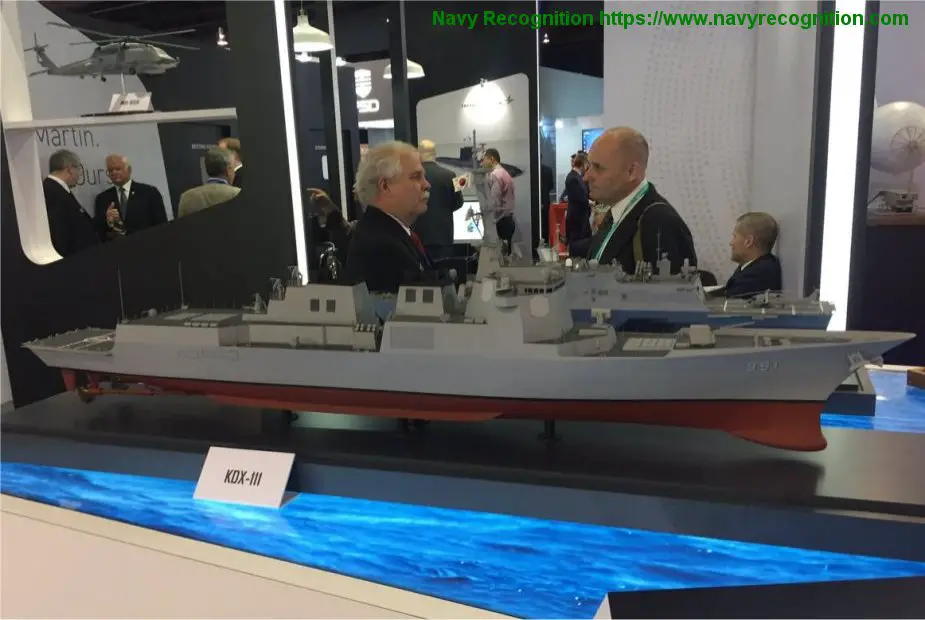 A model of the KDX-III Class destroyers (Picture Source: Navy Recognition)
---
The KDX-III Class destroyers, or Sejong the Great Class destroyers are built by Hyundai Heavy Industries (HHI), along with Daewoo Shipbuilding & Marine Engineering and are operated by the Republic of Korean Navy (ROKN).
These ships have a full displacement of 10,000 tonnes and can accommodate up to 300 crew members. They have a full length of 165m, a beam of 21m and a draft of 6m. They can reach cruising range of 5,500 nautical miles at speeds of 20 knots, but can also reach maximum speeds of up to 30 knots.
They are armed with 80 SM-2 Block IIIB/IV, 16 SSM-700K Hae Sung long-range anti-ship missiles, 32 Hyunmoo III land attack missiles, and 21 RIM-116 Rolling Airframe Missiles (RAM). They are also equipped with a 127mm Mk-45 Mod 4 naval gun and a 30mm Goalkeeper Close-In Weapon System (CIWS). They can also be fitted with 16 Hong Sang Eo (Red Shark) anti-submarine torpedoes.
In addition to that, the new vessels could have an upgraded missile launch system allowing them to fire interceptors against ballistic missiles, in conjunction with the Aegis combat system. They could be the first South Korean vessels to carry SM-3 missiles, and directed-energy weapons remain a possibility too.
As for the submarines, the next batch of three KSS-III boats will be built by 2028 under a budget of KRW3.4 billion. Each submarine will displace 3,450t and will carry Hyunmoo-2 submarine-launched ballistic missiles (SLBM) and Hyunmoo-3 land attack cruise missiles (LACM).
---