---
Joint military training exercise Northern Edge concluded Friday after two weeks of operations with the Air Force, Marines and the Navy. For the first time in a decade, a Navy aircraft carrier was part of the training.
---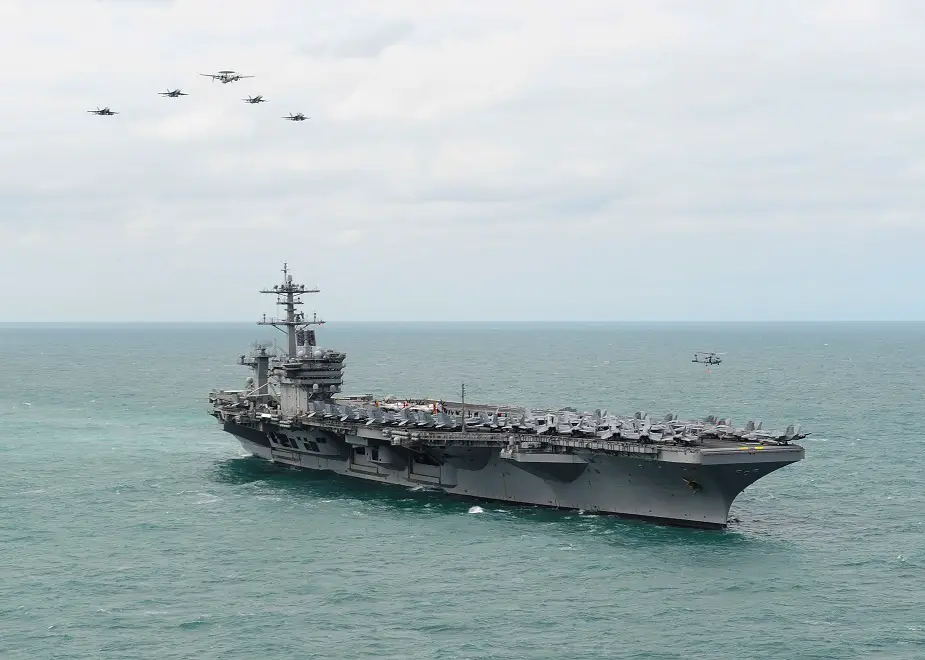 Aircraft from Carrier Air Wing 1 fly in formation over the Nimitz-class aircraft carrier USS Theodore Roosevelt (CVN 71) during an airpower demonstration March 22, 2015 (Picture Source: DVIDS)

---
US Navy aircraft carrier USS Theodore Roosevelt (CVN 71) and some ships from Carrier Strike Group Nine (CSG-9) wrapped up their participation Alaska's largest biannual joint-military training exercise on may 24.
US Navy assets were joined by US Air Force, US Army, and Marine Corps service members for the biannual exercise Northern Edge 2019 (NE19)
The exercise ran from May 13–24 and was designed to prepare joint forces to respond to crises in the Indo-Pacific. More than 10,000 service members and approximately 250 aircraft from the Air Force, Army, Marines, and Navy, from active duty, reserve, and National Guard units, participated in the exercise.
"The Arctic is strategic terrain for the defense of our homeland, and protecting U.S. northern approaches is critical to our national security," Rear Adm. Dan Dwyer said.
"What's unique about training in the Alaska op area is we get to exercise at the very highest level," Dwyer said. "The ranges provide a unique opportunity for all services, and when you can come together and train as one team and train side-by-side at the very high end, it just increases our capability, our readiness and our lethality."
The military presence in the Arctic is not only to respond to acts of war, but also to protect trade routes. "The US Navy is deepening our commitments in the Arctic and operations in Alaska to ensure freedom of navigation and that the Arctic remains conflict-free," Rear Adm. Dwyer said.
---