---
The Indian Navy's frigate INS Tarkash is currently visiting Walvis Bay, Namibia, as part of its overseas deployment to Africa, Europe and Russia. INS Tarkash arrived in Walvis Bay on 15 September for a three-day visit in what the Indian Ministry of Defence called a demonstration of India's warm ties with Namibia and its commitment to enhance operational reach, maritime security and its solidarity with friendly nations.
---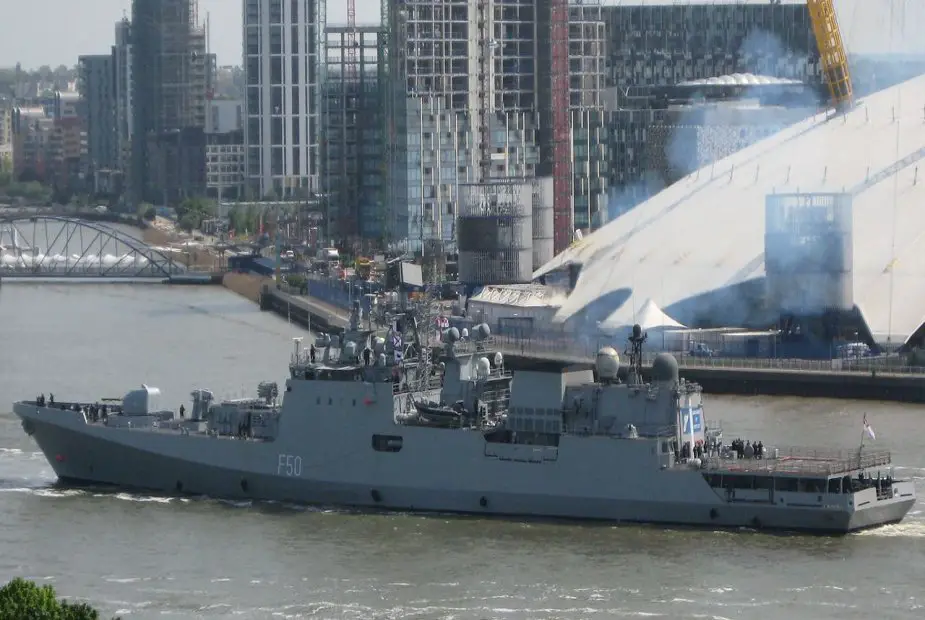 INS Tarkash in London (Picture source: Indian Navy)
---
The frigate previously stopped in Nigeria for a three-day visit on 5 September, celebrating 60 years of diplomatic relations between India and Nigeria. Before that, Tarkash made a three-day port call in Dakar, Senegal, from 27 August. In July, Tarkash was in Morocco for a friendly visit and also docked in Djibouti and Egypt.
The Indian Ministry of Defence said that during the visit to Namibia, the Commanding Officer of the ship will pay courtesy calls on Namibian dignitaries and senior defence officers, including the Chief of the Namibian Navy. Professional interactions are planned with the Namibian Navy towards further enhancing co-operation between the two forces. In addition, social engagements, exchange visit of ships, sports event and sharing of best practices are also organised.
"India and Namibia have enjoyed warm and friendly bilateral relations sharing common values of democracy, development and secularism. A number of bilateral arrangements for co-operation and military exchange exist between the two countries. As part of its defence cooperation, India, over the years, has extended training to a large number of Namibian military officers in various military institutions," the Ministry of Defence said.
INS Tarkash (F50) is the second of the three Teg-class stealth frigates acquired from Russia and was commissioned into Indian naval service in November 2012. She is commanded by Captain Sathish Vasudev. The ship is a part of the Indian Navy's Western Fleet and is under the operational command of Flag Officer Commanding-in-Chief, Western Naval Command.
The vessel has made other visits to countries around the world, including South Africa. She has also taken part in anti-piracy operations off East Africa.
Manned by 300 crew, the 125-metre-long, 3 700-tonne Tarkash carries a wide range of anti-ship, anti-air and anti-submarine weaponry, including the supersonic BrahMos missile, 100 mm naval gun, optically controlled 30 mm Close-In Weapon System, torpedoes and rockets. She typically embarks a Chetak naval helicopter.
---