---
PLA Navy's new hospital ship Nanyi-13 was officially commissioned at a military port on China's Yongshu Reef, Nansha Islands, on November 30, 2020, China Military Online reports.
Follow Navy Recognition on Google News at this link
---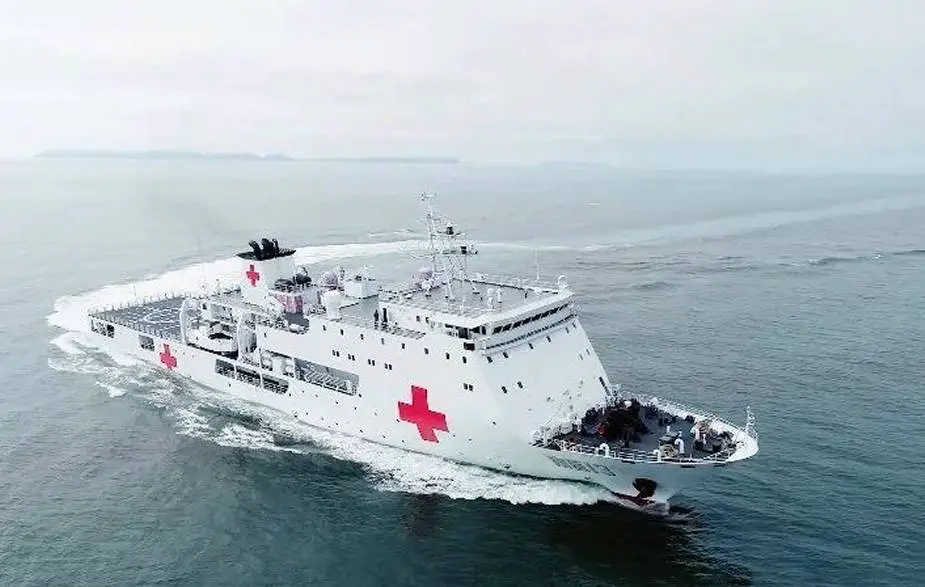 Nanyi-13, the independently designed and domestically made new-type hospital ship, is 109 meters in length and 17 meters in width, with a full displacement of more than 4,000 tons and capable of carrying an air ambulance helicopter (Picture source: China Military Online)
---
Nanyi-13, the independently designed and domestically made new-type hospital ship, is 109 meters in length and 17 meters in width, with a full displacement of more than 4,000 tons and capable of carrying an air ambulance helicopter. The medical personnel on board come from the First Naval Hospital under the PLA Southern Theater Command. They serve in departments of the clinical laboratory, ENT, internal medicine and surgery, burns surgery, psychological counseling, etc. In addition, the ship has been equipped with advanced large-scale medical equipment including CT, DR, color Doppler ultrasonography, gastroscope, as well as sophisticated portable life support devices. With more than 100 beds inside, the hospital ship can support three major operations at the same time.
The hospital ship is mainly responsible for providing medical support to both military and civilian personnel on the Nansha Islands and the crew at sea, and carrying out international humanitarian rescues, emergency rescues, personnel transportation, scientific research and testing, etc.
According to Quan Feiyu, director of the First Naval Hospital under the PLA Southern Theater Command, the hospital ship Nanyi-13 has finished the performance tests of medical equipment and optimization of information system, and is now capable of providing medical support with the standard diagnosis and treatment procedures.
After the commissioning ceremony on Nov. 30, the Nanyi-13 sailed out to conduct itinerant health care for garrison troops stationed on the Huayang, Dongmen, Nanxun, and Chigua reefs, as well as the fishermen operating at sea. In the future, it will carry out more regular itinerant health care missions in the waters of the Nansha Islands.
---