---
The Military Sealift Command hospital ship of US. Navy, USNS Comfort (T-AH 20), departed Naval Station Norfolk on March 28, 2020, for New York City in support of the nation's Coronavirus Disease 2019 (COVID-19) response efforts.
---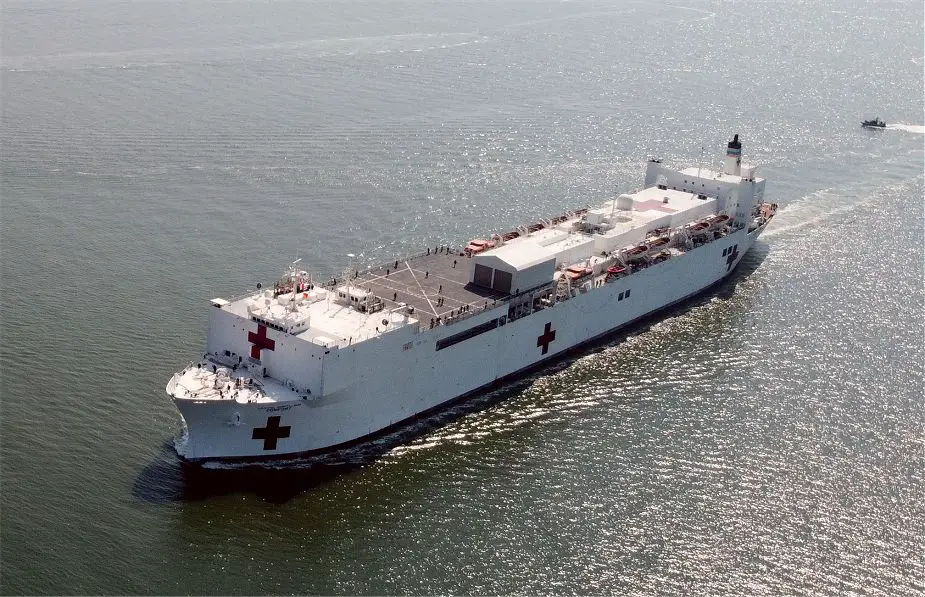 The Military Sealift Command hospital ship USNS Comfort (T-AH 20) departs Naval Station Norfolk, Va. March 28, 2020. Comfort is deploying in support of the nation's COVID-19 response efforts and will serve as a referral hospital for non-COVID-19 patients currently admitted to shore-based hospitals. (Picture source US Navy)
---
The ship will serve as a referral hospital for patients not infected with COVID-19, providing a full spectrum of medical care to include general surgeries, critical care and ward care for adults, while allowing shore-based civilian hospitals to focus on their medical care devoted to the treatment of COVID 19 patients.
Comfort departed Naval Station Norfolk with over 1,100 Navy medical personnel and support staff with the afloat medical treatment facility (MTF), and over 70 civil service mariners.
Comfort's MTF is an embarked crew of medical personnel from the Navy's Bureau of Medicine and Surgery responsible for operating and maintaining one of the largest trauma facilities in the United States.
The ship expects to begin receiving patients 24 hours after arriving in New York City. All patient transfers will be coordinated with local hospitals, thus ensuring a consistent handoff of care between medical providers. Patients will not be accepted on a walk-on basis, and should not come to the pier with an expectation that they can receive care.
Comfort is operated, navigated and maintained by a crew of civil service mariners working for the U.S. Navy's Military Sealift Command.
A converted San Clemente-class supertanker, Comfort was delivered to the Navy's Military Sealift Command Dec. 1, 1987, and is the second of two Mercy-class hospital ships.

USNS Comfort (T-AH-20) is the third United States Navy ship to bear the name Comfort, and the second Mercy-class hospital ship to join the U.S. Navy's fleet. The USNS prefix identifies Comfort as a non-commissioned ship owned by the U.S. Navy and operationally crewed by civilians from the Military Sealift Command (MSC). Uniformed naval hospital staff and naval support staff is embarked when Comfort is deployed, said staffs consisting primarily of naval officers from the Navy's Medical Corps, Dental Corps, Medical Service Corps, Nurse Corps, and Chaplain Corps, and naval enlisted personnel from the Hospital Corpsman rating and various administrative and technical support ratings (e.g., Yeoman, Personnel Specialist, Information Systems Technician, Religious Program Specialist, etc.)

USNS Comfort hospital ship contains twelve fully equipped operating rooms, a 1,000-bed hospital facility, radiological services, a medical laboratory, pharmacy, optometry lab, CT scan equipment, and two oxygen-producing plants.
---