---
The future USS Kansas City (LCS 22), arrives at its new homeport at Naval Base San Diego. The Navy will commission LCS 22, the second ship in naval history to be named Kansas City, June 20, 2020, via naval message due to public health safety and restrictions of large public events related to the novel coronavirus (COVID-19) pandemic.
Follow Navy Recognition on Google News at this link
---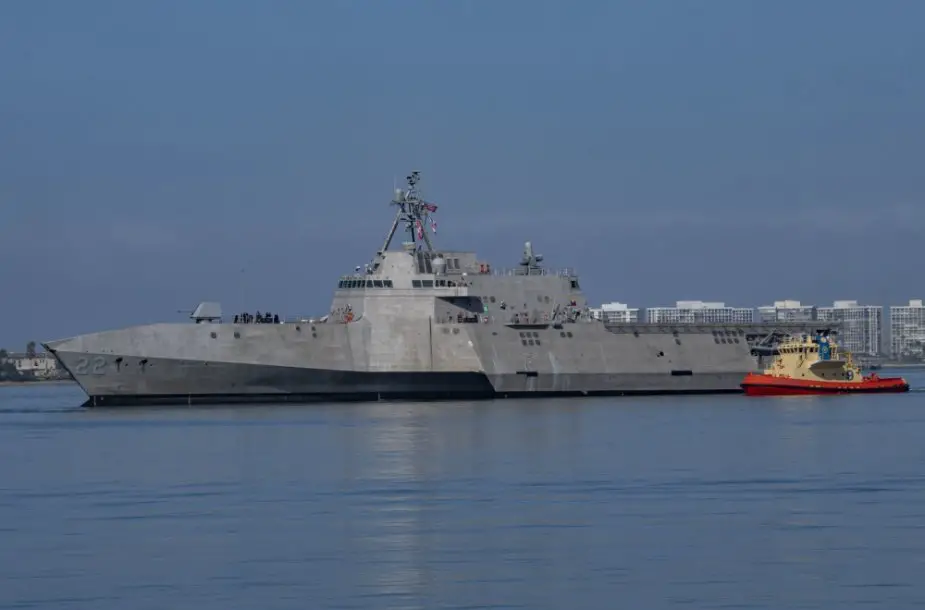 The next ship to be commissioned and carry the Kansas City name arrived at its homeport in San Diego, May 24. (Picture source: U.S. Navy photo by Mass Communication Specialist 3rd Class Kevin C. Leitner)
---
The future USS Kansas City (LCS 22) arrived for the first time at Naval Base San Diego, where the Navy will commission the Independence-variant littoral combat ship (LCS), June 20.
Kansas City was built in Mobile, Alabama by Austal USA in conjunction with General Dynamics. Prior to departing Mobile for San Diego, Kansas City's crew conducted a 21-day restriction in movement (ROM) in accordance with U.S. Navy pre-deployment guidelines.
Due to public health safety and restrictions of large public events related to the novel coronavirus (COVID-19) pandemic, the Navy cancelled the traditional public commissioning ceremony for the future USS Kansas City (LCS 22). The Navy will commission Kansas City via naval message and transition the ship into service as scheduled.
---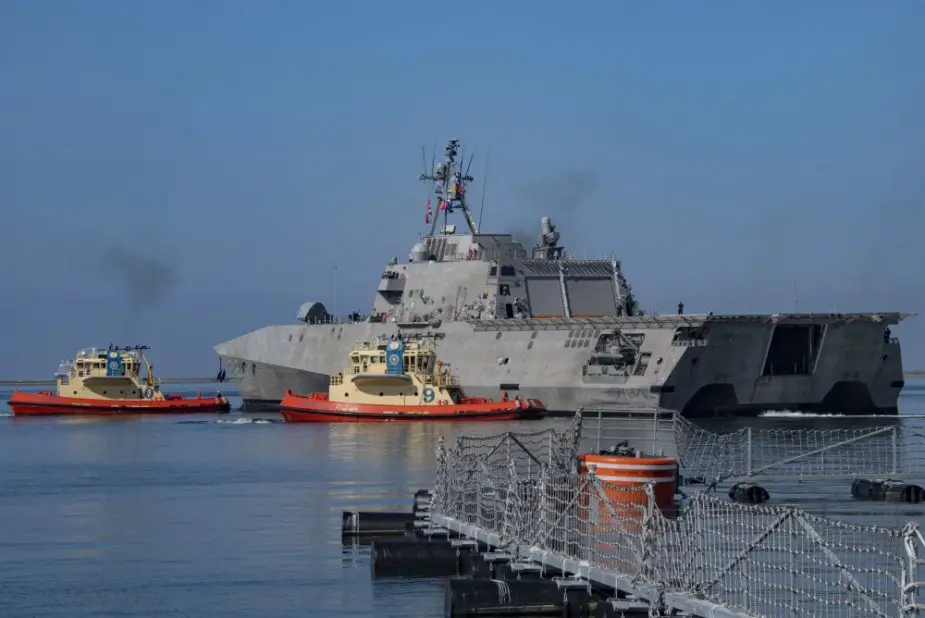 The next ship to be commissioned and carry the Kansas City name arrived at its homeport in San Diego, May 24. (Picture source: U.S. Navy photo by Mass Communication Specialist 3rd Class Kevin C. Leitner)
---
About the LCS 22:
The LCS is a fast, agile, mission-focused platform designed to operate in near-shore environments, while capable of open-ocean tasking and winning against 21st-century coastal threats such as submarines, mines, and swarming small craft. The LCS is capable of supporting forward presence, maritime security, sea control and deterrence.
The ships are 127.4 m long, with a beam of 31.6 m, and a draft of 3.96m. Their displacement is rated at 2,176 tons light, 2,784 tons full, and 608 tons deadweight. The standard ship's crew is 40, although this can increase depending on the ship's role with mission-specific personnel.
The Raytheon SeaRAM missile defense system is installed on the hangar roof. The SeaRAM combines the sensors of the Phalanx 1B close-in weapon system with an 11-missile launcher for the RIM-116 Rolling Airframe Missile, creating an autonomous system.
Kansas City is the 21st LCS to be delivered to the Navy, and the 11th of the Independence-variant to join the fleet. The name Kansas City was assigned to a heavy cruiser during World War II; however, construction was canceled after one month due to the end of the war.
---