---
According to information published by Tass on April 5, 2021, the upgraded Project 1155M frigate Marshal Shaposhnikov has practiced artillery live-firing in the Sea of Japan as part of the K-2 qualification mission, the Defense Ministry's press office said.
Follow Navy Recognition on Google News at this link
---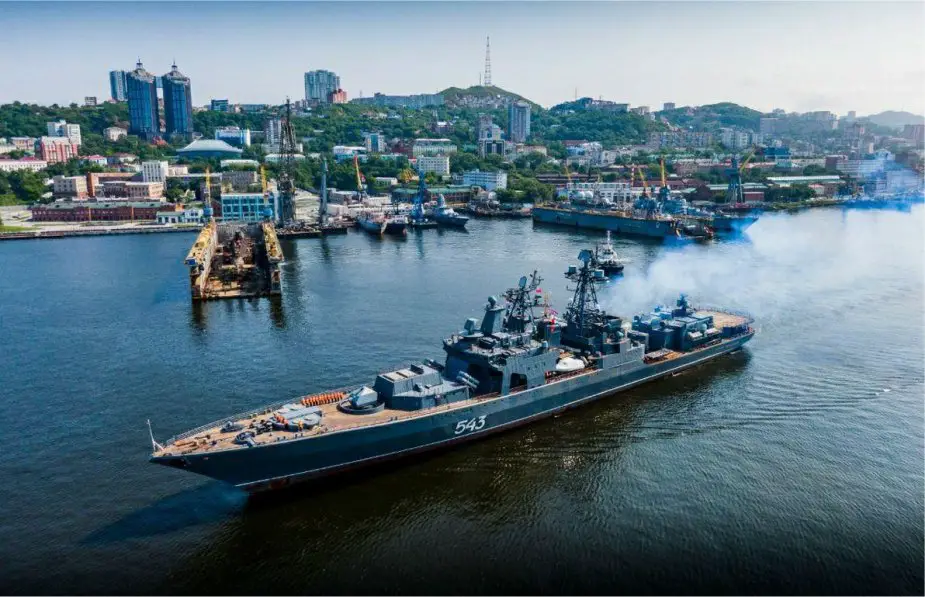 Russian destroyer Marshal Shaposhnikov 543 (Picture source: Twitter account of Rebecca Rambar)
---
"The ship conducted artillery live-firing against aerial and seaborne targets in the Peter the Great Gulf. The crew fired the A-190 versatile artillery system mounted on the ship during the upgrade," the press office said.
Also, the frigate interacted with a Kamov Ka-27 (Helix) helicopter of the Pacific Fleet's air arm to check shipborne radio equipment and communication means.
Earlier, a source in the defense industry told TASS that the upgraded Marshal Shaposhnikov frigate would re-join the Pacific Fleet before the end of 2021.
The Marshal Shaposhnikov is a Udaloy-class destroyer of the Russian Navy laid down in 1985. In 2017 the ship received upgrades to its weapon systems and sensors. The upgrade includes vertical launch systems for the Kalibr cruise missile, 3S24 launchers of the Uran missile complex.
The Marshal Shaposhnikov has an overall length of 163 m, a beam of 19.3m, and a draught of 6.2m. The displacement of the ship is 6,200 tons. She can reach a maximum speed of 29 kt and a range of 10,500 nm at 14kt. It has a crew of 300 sailors.
The Marshal Shaposhnikov destroyer is armed with two 3S14; 16 cells for Kalibr missiles, eight Uran anti-ship missiles, 64 (8 × 8) VLS cells for Kinzhal surface-to-air missiles, one 100 mm (3.9 in) AK-190 naval gun, four 30 mm Gatling guns, eight 553 mm (21.8 in) torpedo tubes, Type 53 ASW/ASuW torpedo and two RBU-6000 anti-submarine rocket launchers.
The Marshal Shaposhnikov has an aft flight deck and two helicopter hangars to support the operations of two Ka-27 Helix-A ASW helicopters.
---
© Copyright 2021 TASS Navy Recognition. All rights reserved. This material may not be published, broadcast, rewritten or redistributed.
---