---
According to information published by US Navy on April 6, 2021, USS Somerset (LPD 25) joins units from the Royal Australian Navy, French Navy, Indian Navy, and the Japan Maritime Self-Defense Force to participate in the third iteration of La Perouse.
Follow Navy Recognition on Google News at this link
---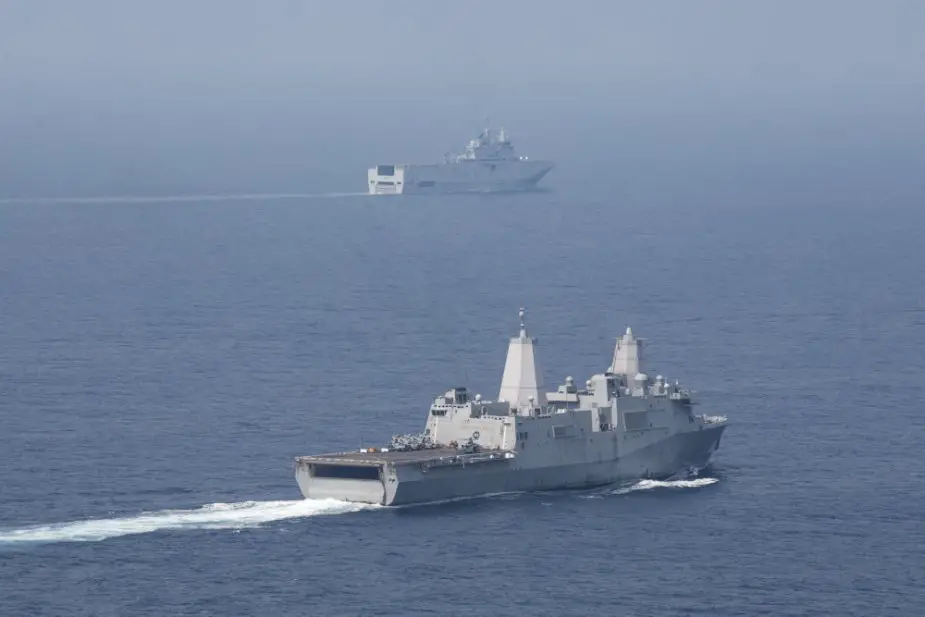 The amphibious transport dock ship USS Somerset (LPD 25), front, and French Navy ship, FS Tonnerre (L9014), back, maneuver in formation through the Bay of Bengal during La Perouse 2021. (Picture source: US Navy)
---
This exercise provides an opportunity for U.S. forces to conduct engagements with Australia, France, India and Japan in order to fulfill maritime integration training objectives by emphasizing collaboration, war fighting, integration and readiness in a dynamic theater, maritime superiority, and power projection.
During the exercise USS Somerset with embarked UH-1Y Venom helicopters assigned to Marine Medium Tiltrotor Squadron 164 (Reinforced), 15th MEU will participate in maritime maneuvering exercises, air defense operations, and live firing exercises alongside partner and allied forces.
La Perouse is an exercise during the annual French Navy midshipman deployment called Mission Jeanne d'Arc. The exercise is designed to conduct training, enhance cooperation in maritime surveillance, maritime interdiction operations, and air operations.
USS Somerset is operating under the control of Expeditionary Strike Group 7 in the U.S. 7th Fleet area of responsibility to enhance interoperability with allies and partners and serve as a ready response force to defend peace and stability in the Indo-Pacific region.
The San Antonio-class USS Somerset LPD 25 were built by the company Huntington Ingalls Industries, formerly Northrop Grumman Ship Systems.
The San Antonio class has significant survivability features and computer technology. In addition to Rolling Airframe Missile (RAM) protection from air threats, the class was designed to minimize radar signature. Techniques that reduce radar cross-section (RCS) make the ships more difficult to locate and target. Enhanced survivability features include improved nuclear blast and fragmentation protection and a shock-hardened structure. The fiber-optic shipboard-wide area network (SWAN) connects onboard-integrated systems.
The San Antonio-class amphibious transport dock has a length of 208.5 m, a beam of 31.9 m, and a draft of 7 m. The ship can accommodate two LCACs (Landing Craft Air Cushion) also named hovercraft or one LCU (Landing Craft Utility ), a type of boat used by amphibious forces to transport equipment and troops to the shore. The ship can also carry 14 amphibious combat vehicles including M1A2 Abrams main battle tanks , 60 tons of military equipment, and up to 800 troops.
The San Antonio-class as hangar and landing deck able to accommodate four CH-46 Sea Knight helicopters or two MV-22 tiltrotor aircraft that may be launched or recovered simultaneously.
---