---
According to information published by US Navy on April 6, 2021, the U.S. Navy with USS Tulsa and the U.S. Coast Guard with USCGC Kimball joined forces for joint training in the eastern Pacific Ocean.
Follow Navy Recognition on Google News at this link
---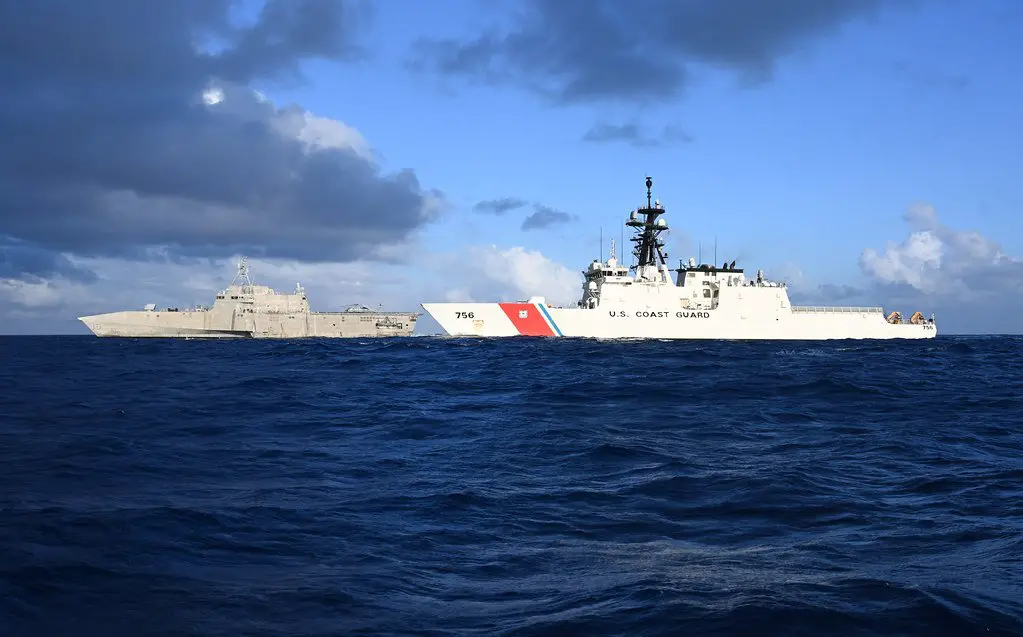 USS Tulsa (LCS 16) and USCGC Kimball (WMSL-756) sail together, April 4. (Picture source: US Navy)
---
This evolution provides training and education to the Navy-Coast Guard all-domain naval force to maintain our nation's advantage at sea. By conducting operations together, Independence-variant littoral combat ship USS Tulsa (LCS 16) and Legend-class USCGC Kimball (WMSL-756) protect vital American security and prosperity.
In an era of rapid change and evolving threats, unit-level joint integration maintains an agile and adaptive naval force. Tulsa, homeported in San Diego, and Kimball, homeported in Honolulu, are united in common purpose, prepared to defend our national interests anywhere and anytime.
U.S. 3rd Fleet leads naval forces in the Indo-Pacific and provides the realistic, relevant training necessary to flawlessly execute our Navy's timeless roles of sea control and power projection. U.S. 3rd Fleet works in close coordination with other numbered Fleets to provide commanders with capable, ready assets to deploy forward and win in day-to-day competition, in crisis, and in conflict.
The future USS Tulsa is the second naval vessel to honor Oklahoma's third largest city. The first USS Tulsa was an Asheville-class gunboat designated as PG-22 that served from 1923 to 1944 before being renamed Tacloban. She earned two battle stars for World War II service. A cruiser to be named USS Tulsa was also authorized for construction during World War II, but the contract was canceled before it was built.
LCS is a highly maneuverable, lethal and adaptable ship designed to support focused mine countermeasures, anti-submarine warfare and surface warfare missions. The ship integrates new technology and capability to affordably support current and future mission capability from deep water to the littorals.
The LCS class consists of two variants, the Freedom variant and the Independence variant, designed and built by two industry teams. The Independence variant team is led by Austal USA, Mobile, Alabama, (for LCS 6 and the subsequent even-numbered hulls). The Freedom variant team is led by Lockheed Martin, Marinette, Wisconsin, (for the odd-numbered hulls).
---