According to information published by US Navy on April 5, 2021, the Theodore Roosevelt Carrier Strike Group (TRCSG) entered the South China Sea to conduct routine operations. This is the second time TRCSG has entered the South China Sea during its 2021 deployment to the U.S. 7th Fleet area of operations.
Follow Navy Recognition on Google News at this link
---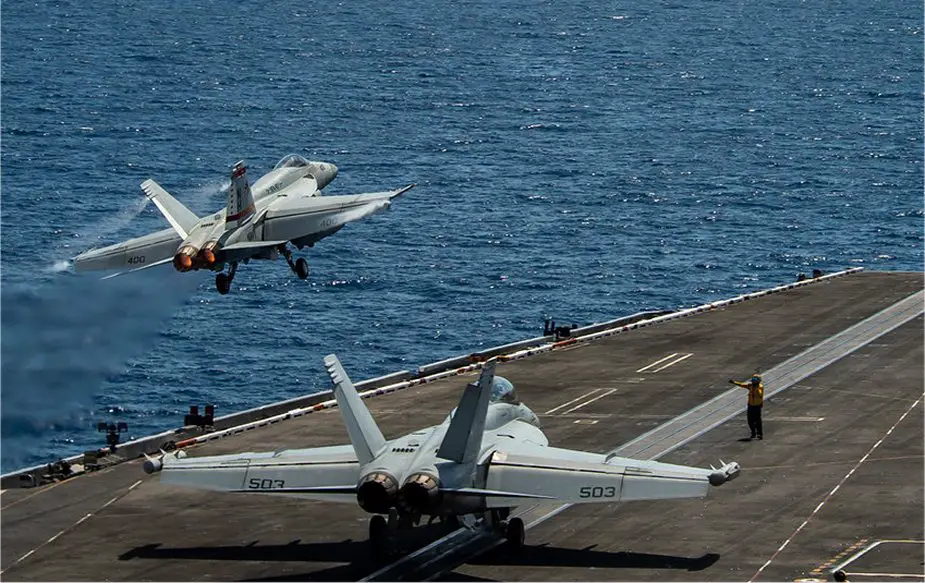 An F/A-18E Super Hornet assigned to Strike Fighter Squadron (VFA) 87 launches from USS Theodore Roosevelt (CVN 71) during flight operations in the South China Sea. (Picture source: US Navy)
---
While in the South China Sea, the strike group will conduct fixed and rotary-wing flight operations, maritime strike exercises, anti-submarine operations, coordinated tactical training, and more.
The TRCSG consists of USS Theodore Roosevelt (CVN 71), Carrier Air Wing (CVW) 11, the Ticonderoga-class guided-missile cruiser USS Bunker Hill (CG 52), Destroyer Squadron 23, and the Arleigh Burke-class guided-missile destroyer USS Russell (DDG 59). TRCSG's operability in the region directly supports the Chief of Naval Operation's navigation plan to master all-domain fleet operations, and exercise with like-minded navies to enhance our collective strength.
7th Fleet is the U.S. Navy's largest forward-deployed fleet and employs 50 to 70 ships and submarines across the Western Pacific and Indian Oceans. 7th Fleet routinely operates and interacts with 35 maritime nations while conducting missions to preserve and protect a free and open Indo-Pacific region.
Theodore Roosevelt's embarked air wing consists of the "Tomcatters" of Strike Fighter Squadrons (VFA) 31, "Golden Warriors" of VFA-87, "Blue Diamonds" of VFA-146, "Black Knights" of VFA-154, "Liberty Bells" of Airborne Command and Control Squadron (VAW) 115, "The Gray Wolves" of Electronic Attack Squadron (VAQ) 142, "Wolf Pack" of Helicopter Maritime Strike Squadron (HSM) 75, "Eightballers" of Helicopter Sea Combat Squadron (HSC) 8 and "Providers" of Fleet Logistic Support Squadron (VRC) 30 Detachment 3.
The USS Theodore Roosevelt (CVN-71) is the fourth Nimitz-class nuclear-powered aircraft carrier in the United States Navy. She is named in honor of Theodore Roosevelt, the 26th President of the United States and a proponent of naval power.
Nimitz-class aircraft carriers are powered by two A4W nuclear reactors, housed in separate compartments. The resulting steam spins four propeller shafts, producing a maximum speed of over 30 knots (56 km/h) and a maximum power of 260,000 brake horsepower (190 MW). The reactors produce heat through nuclear fission which heats water.
---