---
According to information published by Global Times on April 8, 2021, the Chinese People's Liberation Army (PLA) Navy recently commissioned two new mine countermeasure vessels, or MCMV, and deployed them in a recent all-day exercise. Analysts said that minesweeping capacity is important for the PLA in the Taiwan Straits.
Follow Navy Recognition on Google News at this link
---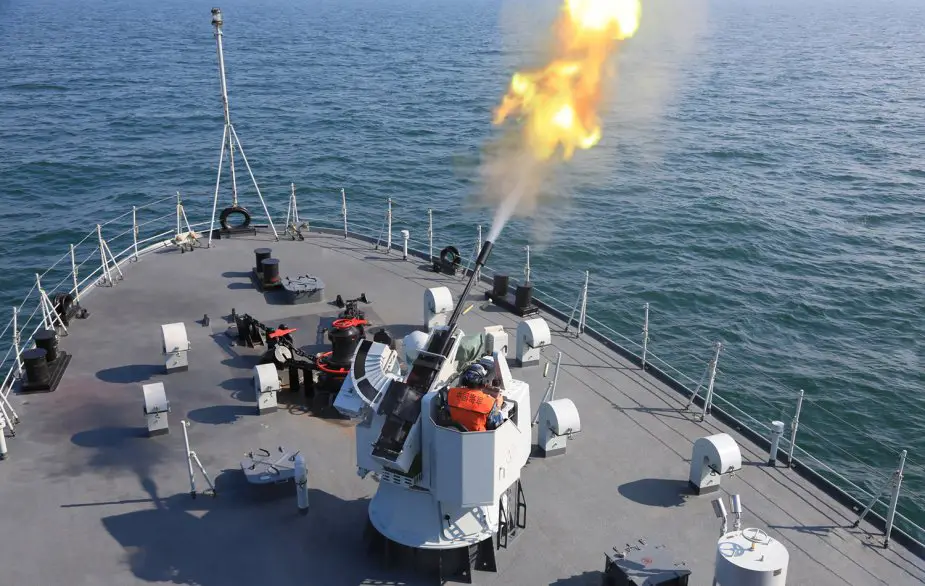 The minesweeper Yucheng (Hull 846) attached to a minesweeper squadron with the North China Sea Fleet of the PLA Navy fires it's 30mm gun during a realistic training exercise in the waters of the Yellow Sea in 2017 (Picture source: China military)
---
The drill featured multiple modules and all combat factors, as the four MCMVs combined techniques of locating, dismantling and probing together, using sonar devices to detect suspected sea mines at night and clear them with a variety of equipment during the day, CCTV reported.
This is the first maritime training exercise the Huimin and the Zhijiang have participated in since they entered service, according to CCTV.
Media reported last year that the US was pushing an arms sales surge to the island of Taiwan, including smart, underwater sea mines. Taiwan has also been constructing minelayer vessels.
By laying mines in the Taiwan Straits, the island is attempting to slow down a potential PLA amphibious landing. Taiwan wrongly believes that the PLA would need a long time to clear the mines before launching a full scale amphibious assault. With this measures, it thinks it can buy enough time and wait for US reinforcements, experts said at that time.
The PLA has a tradition of paying heavy attention to minesweeping operations, Shi Hong, Executive Chief Editor of the Chinese mainland magazine, Shipborne Weapons, told the Global Times on Tuesday.
Taiwan not only wants to use sea mines around the island, but also plans to seal off mainland ports, Shi said, noting that if the US or Japanese forces interfere militarily in the Taiwan question, they could also use sea mines. The newly developed American smart mines could prove themselves to be a huge threat.
Under this circumstances, it is very important for the PLA to constantly enhance its minesweeping capabilities, Shi said.
The Huimin and the Zhijiang MCMVs were able to join the exercise shortly after commissioning and this shows that they are gaining operational capabilities very fast. The PLA Navy's talent cultivation program can also match the speed of its warship construction program, Shi said.
The Type 082 is a maritime minesweeper (MSC) designed by the Chinese for the so-called boat combination. The boat was originally proposed at the third anti-mine equipment planning meeting in 1976. It was designed by Ma Jinhua of the 708 Institute and was designed in 1984. Jiangxi Jiangxin Shipyard started construction and was commissioned and commissioned in 1987.
The class is of low magnetic steel hull with a full displacement of 320 tons, a length of 44.79 meters, a width of 6.28 meters, a cabin depth of 3.7 meters, a draft of 2.25 meters, a host of 4 M 50 diesel engines, 4,400 horsepower, four-axis propulsion, The rate is 25 knots, the cruising range of 15 knots is 500 tons, and the fuel is loaded with 70 tons. The crew of the crew is 6 officers and 34 officers and men. Armed for 2 double-united 25 mm/60-times cannons equipped with electromagnetic and acoustic sound. Sub-audio and mechanical cutting blasting swabs can carry 6 mines.
---