---
According to information published by U.S. Department of Defense on April 8, 2021, Puget Sound Naval Shipyard & Intermediate Maintenance Facility's San Diego Detachment completed a Planned Incremental Availability for aircraft carrier USS Abraham Lincoln (CVN 72).
Follow Navy Recognition on Google News at this link
---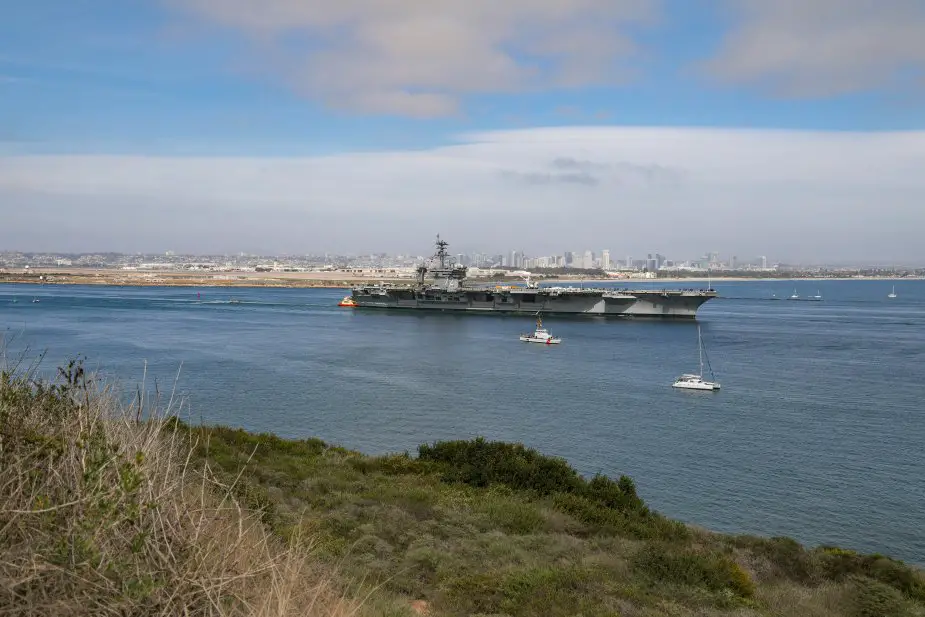 USS Abraham Lincoln (CVN 72) departs San Diego headed out to sea trials (Picture source: U.S. Department of Defense)
---
The availability, which began Sept. 30, 2020, resulted in 230,000 man-days of work completed and an overall cost of approximately $160 million.
Work included periodic maintenance; upgrades to crew living, refrigeration and laundry spaces; and modernization to combat systems. The ship also underwent retrofits to accommodate F-35 aircraft.
USS Abraham Lincoln (CVN-72) is the fifth Nimitz-class aircraft carrier in the United States Navy.
The USS Abraham Lincoln is a conventionally-designed aircraft carrier with an island on the starboard side and an angled flight deck to port. Four hangar elevators service her flight deck with three located on the starboard and one to port. The starboard three are divided with one sitting abaft of the island and the remaining two forward. Four steam catapults allow for quick response off the flight deck.
Lincoln is defended by twin Mk 57 Mod3 series Sea Sparrow surface-to-air missile launchers and two RIM-116 Rolling Airframe Missile short-range surface-to-air missile launchers. Additionally, the crew can call upon three 20mm Phalanx Close-In Weapon Systems for anti-missile/anti-aircraft defense. Power is derived from two Westinghouse brand A4W class nuclear reactors, powering four steam turbines which, in turn, propelled four shafts to 260,000 shaft horsepower. Due to the nature of nuclear reactors, the range of the Abraham Lincoln (and the entire Nimitz-class for that matter) is essentially unlimited.
Sensors, radars and systems abound on this floating city. The ship features some three air traffic control radars, powerful air search radars, landing aid radars and guidance systems. Crew complement is 3,200 sailors along with 2,480 airmen.
---