---
The U.S. Navy USS Monterey (CG 61) Ticonderoga-class guided-missile cruiser conducts naval operations in the Arabian Gulf, the ship is deployed with the IKE Carrier Strike Group.
Follow Navy Recognition on Google News at this link
---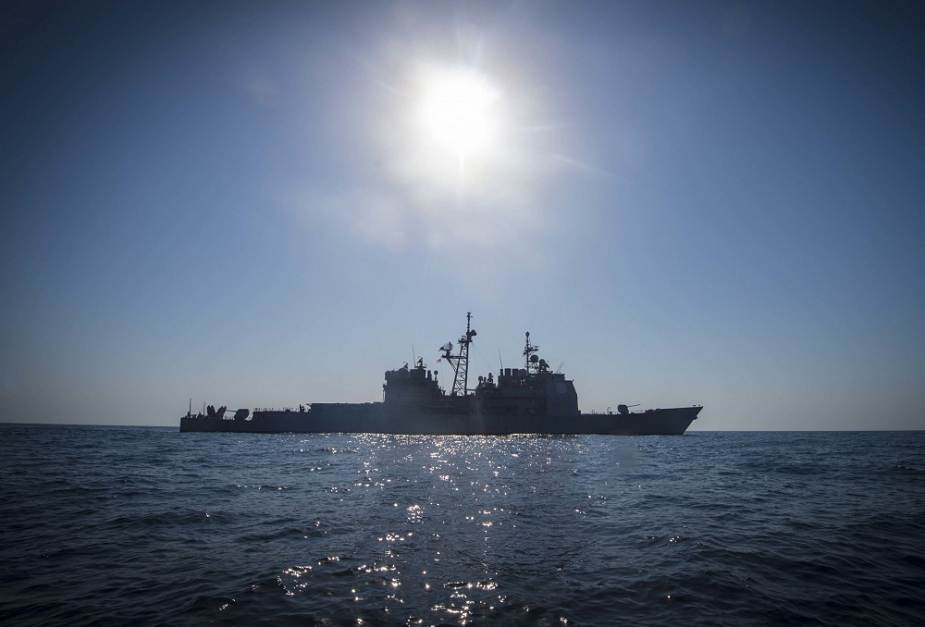 The guided-missile cruiser USS Monterey (CG 61) transits the Arabian Gulf. (Picture source U.S. Navy)
---
The USS Monterey (CG 61) is supporting the IKE Carrier Strike Group while deployed to the U.S. 5th Fleet area and conducting naval operations to ensure maritime stability and security in the Central Region, connecting the Mediterranean and the Pacific through the western Indian Ocean and three strategic choke points.
While in 5th Fleet, the IKE CSG is operating and training alongside regional and coalition partners, and providing naval aviation support to Operation Inherent Resolve.
Deploying ships and aircraft of the strike group, commanded by Rear Adm. Scott F. Robertson, include the Eisenhower; guided-missile cruiser USS Monterey (CG 61); and guided-missile destroyers USS Mitscher (DDG 57), USS Laboon (DDG 58), USS Mahan (DDG 72) and USS Thomas Hudner (DDG 116).
Squadrons of Carrier Air Wing (CVW) 3, embarked on Eisenhower include the "Fighting Swordsmen" of Strike Fighter Squadron (VFA) 32, "Gunslingers" of Strike Fighter Squadron (VFA) 105, "Wildcats" of Strike Fighter Squadron (VFA) 131, "Rampagers" of Strike Fighter Squadron (VFA) 83; "Dusty Dogs" of Helicopter Sea Combat Squadron (HSC) 7; "Swamp Foxes" of Helicopter Maritime Strike Squadron (HSM) 74; "Screwtops" of Airborne Command and Control Squadron (VAW) 123; "Zappers" of Electronic Attack Squadron (VAQ) 130 and a detachment from Fleet Logistics Support Squadron (VRC) 40, the "Rawhides".
The USS Monterey (CG-61) is a Ticonderoga-class guided-missile cruiser in service with the United States Navy. She was commissioned in June 1990.
The Ticonderoga class introduced a new generation of guided missile warships based on the Aegis phased array radar that is capable of simultaneously scanning for threats, tracking targets, and guiding missiles to interception. The ship is armed with 2 × 61 cell Mk 41 vertical launch systems containing able to launch RIM-66M-5 Standard SM-2MR Block IIIB surface-to-air missile, RIM-156A SM-2ER Block IV surface-to-air missile, RIM-161 SM-3 ship-based missile, RIM-162A ESSM air defense missile, RIM-174A Standard ERAM anti-air warfare missile, BGM-109 Tomahawk RUM-139A VL-ASROC cruise missile. She has also eight RGM-84 Harpoon anti-ship missiles.
---