---
According to a press release published by Schiebel on August 2, 2021, the company demonstrated the outstanding capabilities of its Unmanned Air System (UAS) CAMCOPTER® S-100 to the Hellenic Navy.
Follow Navy Recognition on Google News at this link
---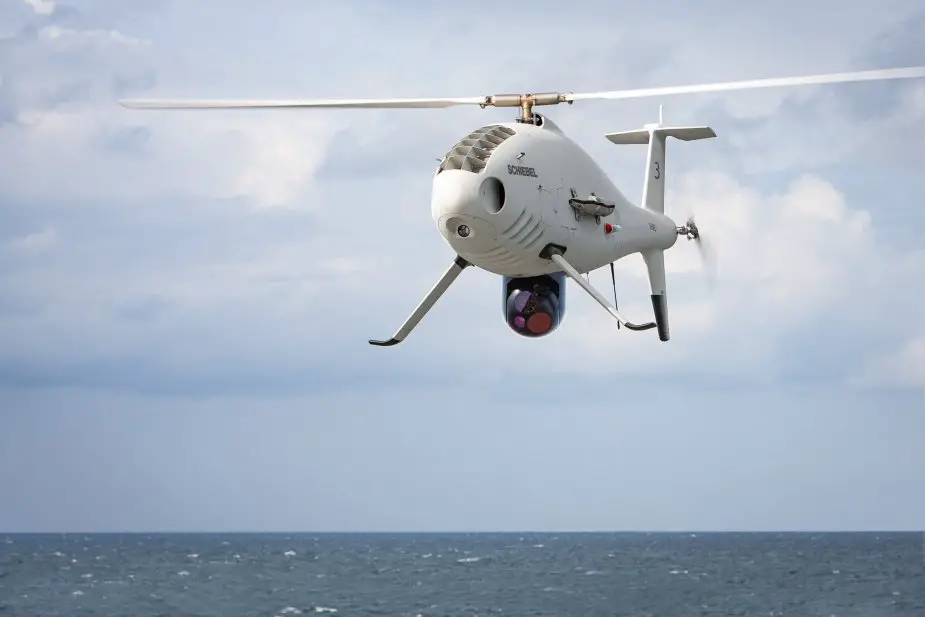 CAMCOPTER S-100 Unmanned Aircraft System (Picture source: Schiebel)
---
Stationed on board of the Elli-Class Frigate Aigaion (F-460) in the Mediterranean Sea west of Crete, the S-100 showcased in a one-week trial its range, endurance and speed, as well as its maritime surveillance and detection capabilities, to the Hellenic Navy. For the demonstration flights, the CAMCOPTER® S-100 was equipped with a Trakka TC-300 EO/IR sensor and a Shine Micro Automatic Identification System (AIS) receiver.
The scenarios alternated day and night take-offs and landings. They included cooperation with other Hellenic Navy vessels, maritime traffic monitoring and coast observation.
Schiebel's CAMCOPTER® S-100 Unmanned Air System (UAS) is an operationally proven capability for military and civilian applications. The Vertical Takeoff and Landing (VTOL) UAS requires no prepared area or supporting equipment to enable launch and recovery. It operates by day and by night, under adverse weather conditions, with a beyond line-of-sight capability out to 200 km / 108 nm, over land and sea. Its carbon fibre and titanium fuselage provides capacity for a wide range of payload/endurance combinations up to a service ceiling of 5,500 m / 18,000 ft.
In a typical configuration, the CAMCOPTER® S-100 carries a 34-kg / 75-lbs payload up to 10 hours and is powered with AVGas or JP-5 heavy fuel. High-definition payload imagery is transmitted to the control station in real time. In addition to its standard GPS waypoint or manual navigation, the S-100 can successfully operate in environments where GPS is not available, with missions planned and controlled via a simple point-and-click graphical user interface. The high-tech unmanned helicopter is backed by Schiebel's excellent customer support and training services.
The Elli-class frigates are a series of frigates operated by the Hellenic Navy. The ships are of Dutch origin and are also known as Kortenaer-class or Standard-class or S-class frigates. The first two ships (Elli and Limnos), which have lengthened hangars and different armament were built specifically for the Hellenic Navy.
The remaining ships are ex-Royal Netherlands Navy S-frigates of the Kortenaer class transferred to the Hellenic Navy in the 1990s and early 2000s. These robust and reliable ships constitute the backbone of the Greek Navy. Elli, for which the class is named, is itself named after two famous Greek cruisers, one of which was sunk during World War II.
---