---
According to information published by Sea Power magazine on August 1, 2021, Jon Rambeau, vice president and general manager for Integrated Warfare Systems & Sensors at Lockheed Martin said that HELIOS Laser Weapon System is being tested by the U.S. Navy at the Surface Combat Systems Center Wallops Island.
Follow Navy Recognition on Google News at this link
---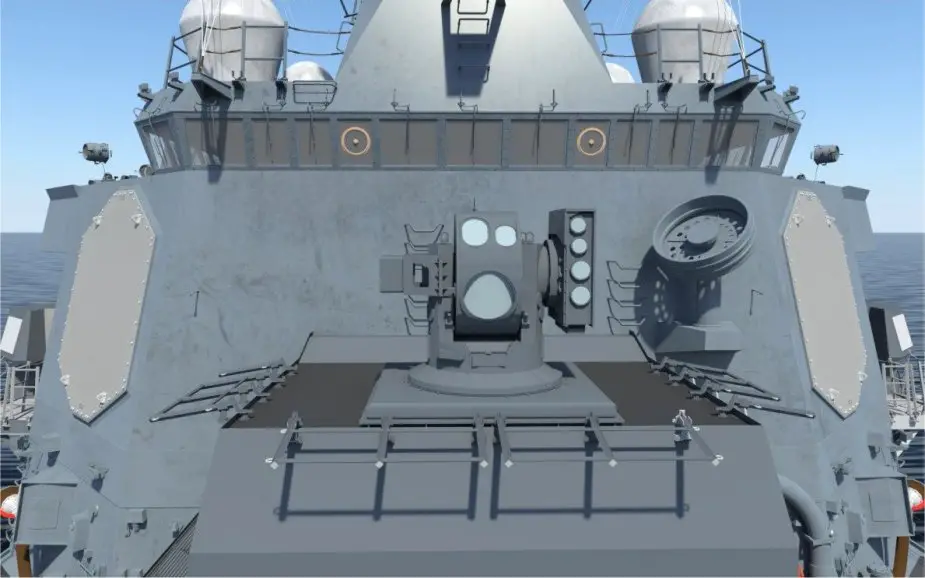 Artist rendering of HELIOS Laser Weapon System (Picture source: Lockheed Martin)
---
HELIOS Laser Weapon System is scheduled to be installed on the Flight IIA Arleigh Burke-class guided-missile destroyer USS Preble.
HELIOS is a 60-kilowatt laser system, meaning it has twice the power of the AN/SEQ-3 Laser Weapon System, or LaWS installed on the USS Ponce in 2014. HELIOS is billed as a weapon that can burn small speed boats of the type Iran deploys in armed swarms, and can torch unmanned aerial vehicles out of the sky. HELIOS has a long-range intelligence, surveillance, and reconnaissance capability.
Many weapons already deployed on U.S. Navy warships, including the Phalanx close-in weapon system (CIWS) and the Rolling Airframe Missile (RAM), have a similar capability against small boats and drones as HELIOS, while HELIOS is also capable of taking on larger, faster aircraft and missiles. Where a laser weapon like HELIOS shines, literally, is its ability to fire a theoretically unlimited number of shots using the destroyer's onboard electrical generation systems. Phalanx, on the other hand, is limited to 20 to 30 seconds of continuous firing, while RAM is limited to 21 missiles aboard the Mk. 49 Guided Missile Launching System.
USS Preble (DDG-88) is an Arleigh Burke-class destroyer in the United States Navy. She is the sixth U.S. Navy ship named in honor of Commodore Edward Preble, who served in the American Revolutionary War and was one of the early leaders of the Navy.
The initial ARLEIGH BURKE-class guided-missile destroyers have a full load displacement of 8,300 tons, are 506 feet in overall length and have a 62 foot beam. They are driven by two shafts powered by four LM2500 engines. Their maximum speed is in excess of 30 knots and they have a cruising range of 4,400 n. miles at 20 knots. The ships complement is about 30 officers and 302 enlisted personnel.
---