---
According to information published by Ukroboronprom on August 3, 2021, Mykolayiv Shipyard (a part of Ukroboronprom) completes the repair of the Matka-class missile boat Pryluky and Yevgenya-class minesweeper Henichesk.
Follow Navy Recognition on Google News at this link
---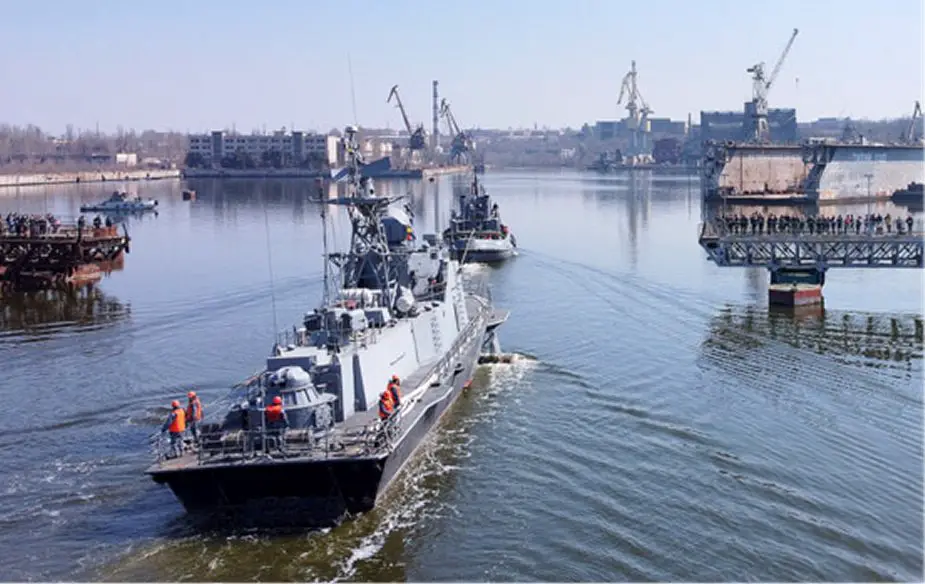 Yevgenya-class minesweeper Henichesk and Matka-class missile boat Pryluky (Picture source: Militaryland)
---
The Yevgenya class are a series of minesweepers built for the Soviet Navy and export customers between 1967 and 1980. The Soviet designation was Project 1258 Korund.
The Yevgenya class were small minesweepers built for inshore work. The hulls were constructed of glass-reinforced plastic. As built they had a standard displacement of 89.9 tonnes (88.5 long tons), 91 tonnes (90 long tons) normally, 93.0 tonnes (91.5 long tons) at full load and maximum 96 tonnes (94 long tons).
The Yevgenya class measured 26.13 metres (85 ft 9 in) long overall, 23 metres (75 ft 6 in) between perpendiculars and 24.16 metres (79 ft 3 in) at the waterline with a extreme beam of 5.9 metres (19 ft 4 in) and 5.4 metres (17 ft 9 in) at the waterline. The vessel had a normal draught of 1.35 metres (4 ft 5 in) and 1.38 metres (4 ft 6 in) fully load.
As-built, the minesweepers were powered by two diesel engines turning two propeller shafts creating 630 kilowatts (850 bhp). This gave the ships a maximum speed of 12 knots (22 km/h; 14 mph) and a range of 300 nmi (560 km; 350 mi) at 10 knots (19 km/h; 12 mph). They carried 91 tonnes (90 long tons) of diesel fuel.
The vessels were armed with twin-mounted 14.5 mm (0.57 in) machine guns. They were equipped with MT-34, AT-2, SEMT-3, Neva and GKT-3 sweeps. The minesweepers mounted MG-7 sonar. They had a complement of 10.
The Matka class is the NATO reporting name for a group of hydrofoil missile boats built for the Soviet Navy (Baltic Fleet and Black Sea Fleet). The Soviet designation is Project 206MR Vikhr. Following the 1997 Black Sea Fleet partition treaty all Black Sea Fleet Matka class boats were passed to the Ukrainian Navy.
---