---
According to a press release published by Iridium Communications Inc. on August 4, 2021, the company announced that the Canadian Coast Guard has adopted Iridium Certus® connectivity with support from Iridium partner MetOcean Telematics.
Follow Navy Recognition on Google News at this link
---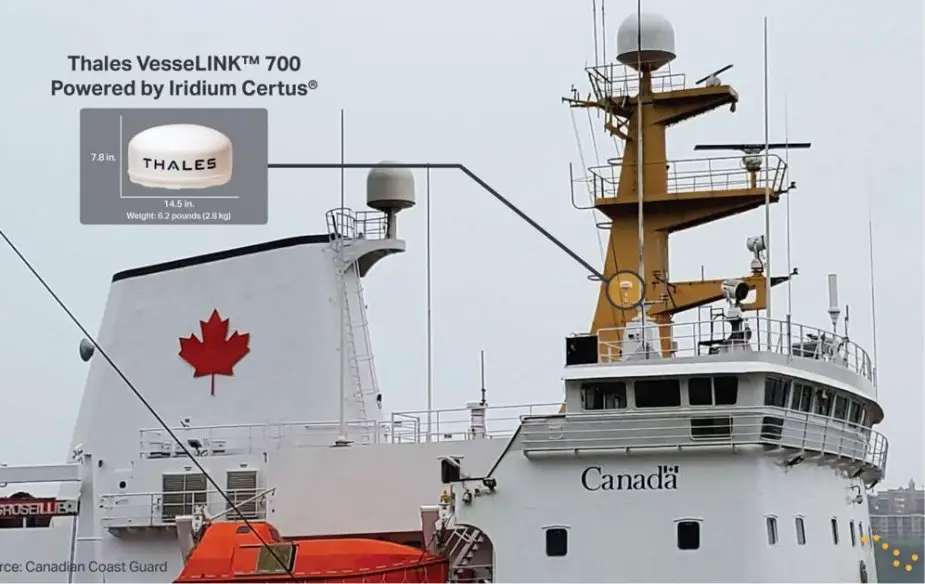 Thales VesseLink 700 powered by Iridium Certus (Picture source: Iridium)
---
The Coast Guard deployed dozens of Iridium CertusTM Thales VesseLINK™ 700 terminals on its vessels, including icebreakers, to contribute to reliable internet connectivity as crew members deliver programs and services to ensure safety of mariners in Canadian waters and protect Canada's marine environment.
The Canadian Coast Guard responds to marine search and rescue and environmental incidents, provides icebreaking and aids to navigation services, and ensures waterways are safe and accessible for business year-round including in the Arctic during the operational season from June to November. While on duty in the high Arctic, the Iridium® network supports Coast Guard ships' and crew members' ability to stay in touch with headquarters. Iridium Certus connectivity also supports the Coast Guard's general safety with access to navigational data and weather reports, which is a large improvement from historical solutions.
VesseLINK™ by Thales – a global leader in delivering sophisticated solutions for the world's navies – gives your critical marine operation global communications coverage. It is the solution to depend on for essential communications wherever and whenever you are at sea. Whether you operate a large fleet or a single vessel, this solution is designed to meet your unique challenges through a simple, adaptable and robust design.
VesseLINK comes with an intuitive, user-friendly interface and can be quickly integrated into existing vessels or new fleets. It also includes built-in upgradeability to extend the life of your investment and ensure peak speed and performance.
---