---
The Turkish firm Yonca-Onuk JV displays MRTP20 Improved Fast Intervention Craft during IDEF, the International Defense Exhibition that will be held in Istanbul, Turkey from 17 to 20 August 2021.
Follow Navy Recognition on Google News at this link
---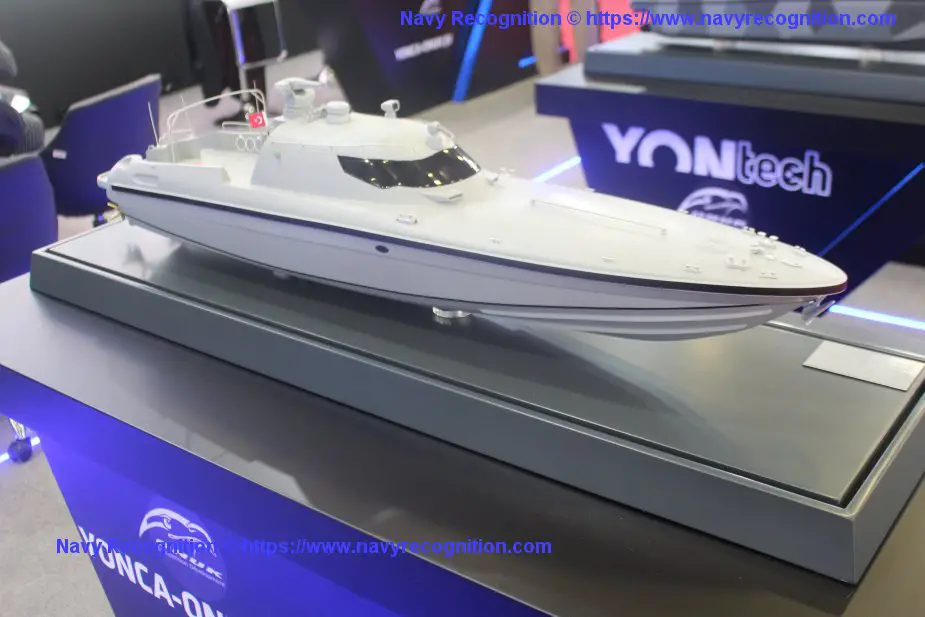 A model of MRTP20 Fast Intervention Craft (Picture source: Navy Recognition)
---
The Yonca-Onuk MRTP20 Improved Fast Intervention Craft is built from composite material. The platform is 22,55 metres long and 4,76 metres wide. The draught is 1,35 metres.
Depending on the configuration, the boats can reach speeds of more than 60 knots. They are fitted with ASELSAN 12,7 mm STAMP stabilised gun platform. They can reach a range of more than 350 nm at economic speed. They can carry up a crew of 11 sailors.
STAMP-2 is a remotely operated stabilized weapon station for small caliber guns. STAMP-2 can be fitted with either a 12.7 mm Machine Gun or a 7.62 mm Machine Gun or a 40 mm Grenade Launcher.
Yonca-Onuk delivered the MRTP20 Improved Fast Intervention Craft to the Qatari Emiri Navy in 2020.
Yonca-Onuk Shipyard, which is part of the group of Kalkavanlar, is a Turkish shipyard established in Istanbul, Turkey in 1985. It builds fast patrol boats for defence and law enforcement missions.
---