---
At IDEF, the International Defense Exhibition that will be held in Istanbul, Turkey from 17 to 20 August 2021, Ares Shipyard from Turkey, showcases Ares 85 Hercules Fast Patrol Boat. Founded in 2006 by the Kalafatoğlu Family, ARES Shipyard was initially established to produce pleasure craft and fishing boats, based on the family's long tradition of shipbuilding and sailing.
Follow Navy Recognition on Google News at this link
---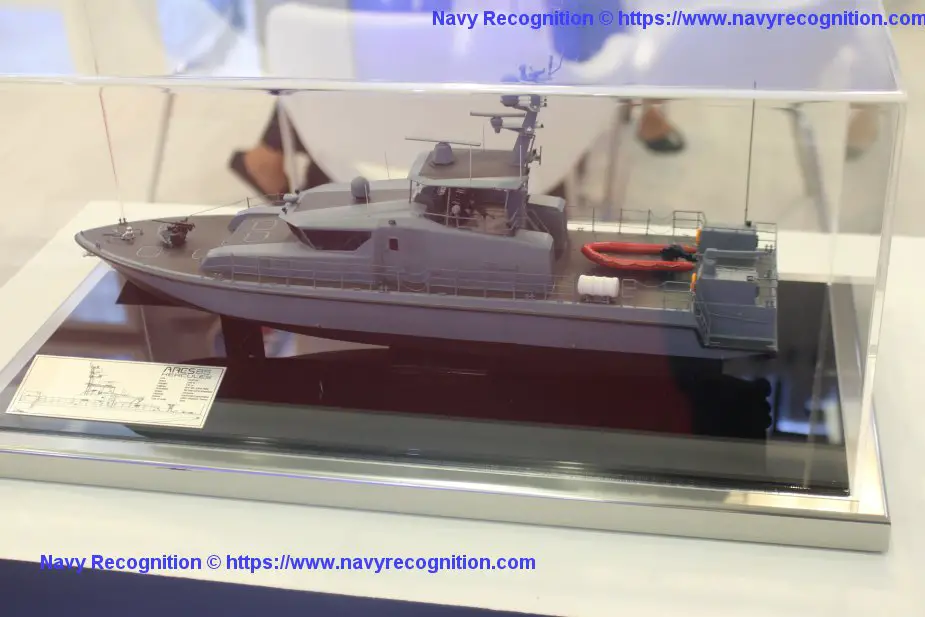 A model of Ares 85 Hercules Fast Patrol Boat (Picture source: Navy Recognition)
---
The fast patrol craft was designed by the Antalya-based Ares Shipyard in cooperation with the British Maritime Technology (BMT), which is experienced in commercial and naval high-performance patrol vessels with lengths ranging from 9 m (30 ft) to 220 m (720 ft).
Made of advanced composite material, Ares 85 Hercules was built at Ares Shipyard. She has a length of 25.95 m (85.1 ft), a beam of 5.85 m (19.2 ft), a draft of 1.20 m (3 ft 11 in) with a displacement of 70 tons. She has a cruise speed of 45 kn (83 km/h; 52 mph), up to 55 kn (102 km/h; 63 mph). The ship's class is BV, TL/HSC-N (Bureau Veritas, Turkish Lloyd/High-speed craft - Non-displacement mode).
The patrol boat features a stabilized weapon station of a remotely controlled 12.7 mm machine gun. The patrol craft is equipped with electro-optical sensors and sea-based X-band Radar. She carries a rigid-hull inflatable boat (RHIB) on the poop deck for use in boarding a ship and search and rescue missions.
---