---
Turkish Coast Guard Command displays SAGAPRO unmanned underwater vehicle (miniROV) at IDEX, the International Defense Exhibition. The miniROV is made by Desistek Inc. that is the first manufacturer company of portable underwater remotely operated vehicle (ROV) systems in Turkey.
Follow Navy Recognition on Google News at this link
---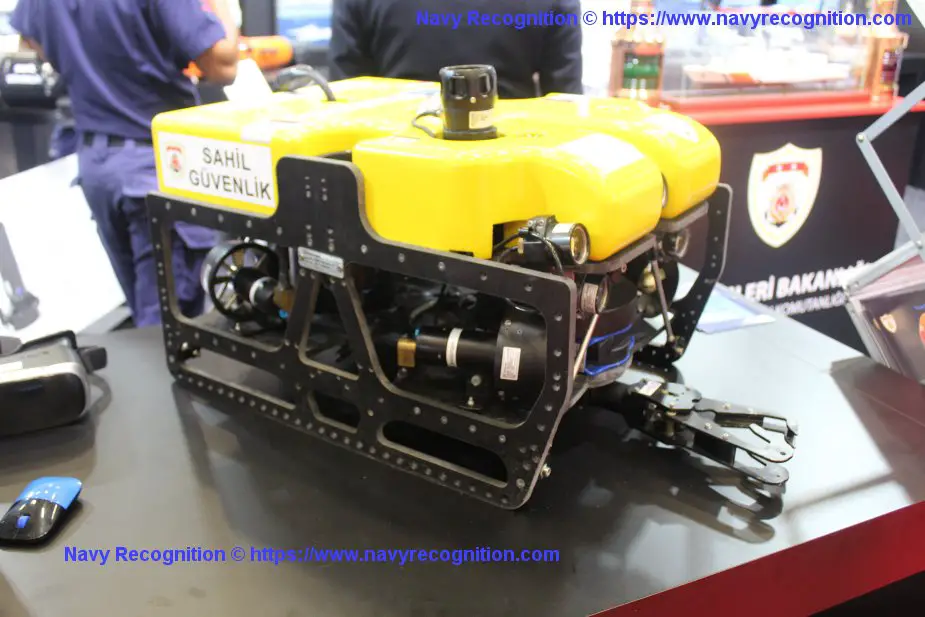 SAGAPRO unmanned underwater vehicle (Picture source:  Navy Recognition)
---
SAGAPRO unmanned underwater vehicle (miniROV), whose design and production is developed with domestic facilities, can dive to a depth of 300 meters.
SAGAPRO, which provides instant image transfer from underwater with its high-resolution front and rear cameras and lighting systems that can move together with the camera, has an advanced operation capability without a time limit. By means of the robot arm and different mouth tips, it can bring the detected objects from underwater to the surface. SAGAPRO can perform search and detection activites even in zero-visibility waters, thanks to the advanced sonar that can be mounted on it. SAGAPRO provides easy usage with its high maneuverability and advanced autopilot features and can accelerate up to three knots.
The system, which has light and easy-to-carry equipment, makes it possible to perform operations even on the zodiac boat with a total of 3 waterproof carrying bags.
SAGAPRO has the possibility of integrating additional hardware such as a metal detector, underwater positioning system, dome camera (360 degrees), in addition to standard temperature, depth, compass sensors.
---