---
The firm Roketsan showcases Akya heavy class torpedo during the International Defense Exhibition, IDEX 2021. Roketsan Roket Sanayii ve Ticaret A.S. is a major Turkish weapons manufacturer and defense contractor based in Ankara.
Follow Navy Recognition on Google News at this link
---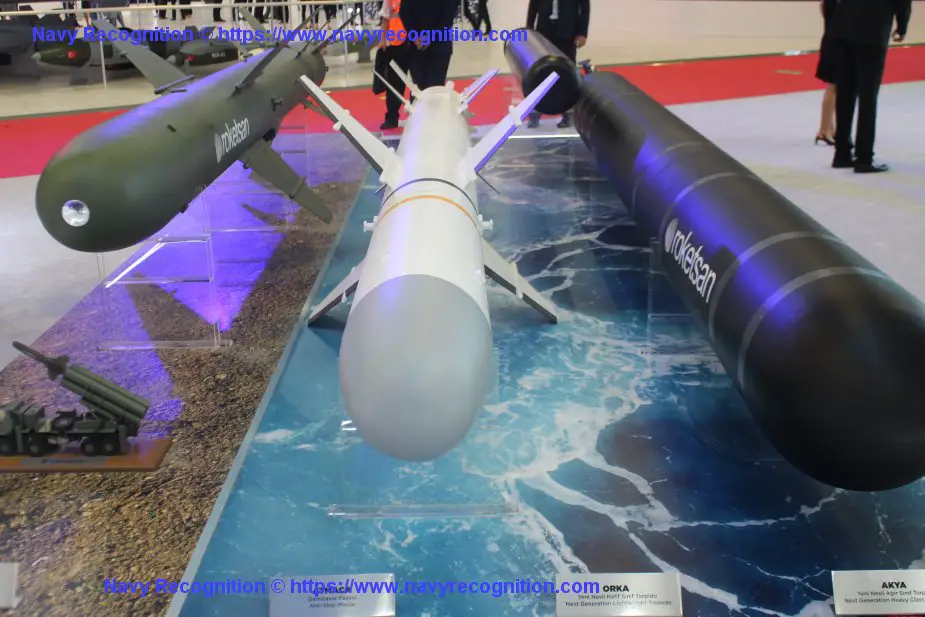 Heavy class torpedo Akya, at right (Picture source: Navy Recognition)
---
The development of the torpedo was started in 2009 according to a contract signed between Turkey's Undersecretariat for Defence Industries SSM, now SSB and the company Roketsan, TÜBİTAK (Scientific and Technological Research Council of Turkey ), and the Turkish Naval Research Center Command (ARMERKOM).
Akya is a next-generation heavy class torpedo that has been developed entirely with national resources, and that can be launched from submarines against other submarine targets of different classes.
The torpedo, which operates at high speeds and at long ranges, features an active/passive sonar head, while internal guidance is provided via internal and fiber-optic cabling. It makes use of wake guidance against surface targets.
Akya has a length of 7 m and a diameter of 533 mm. It weighs 1.2 tons and has a range of 15 km at a cruising speed of 40 knots. Akya relies on a fiber-optic wire guidance system alongside active and passive acoustic sonars.
---