---
According to a press release published by Leonardo DRS on August 20, 2021, the firm has successfully completed formal interoperability testing of its Link-22 Signal Processing Controller (SPC) within the NATO Improved Link Eleven (NILE) Link-22 Network. Compliance with this standard allows Leonardo DRS to provide world-class production of the technology and full interoperability with all NATO and allied partners supporting operations and exercises in the INDOPACOM theater.
Follow Navy Recognition on Google News at this link
---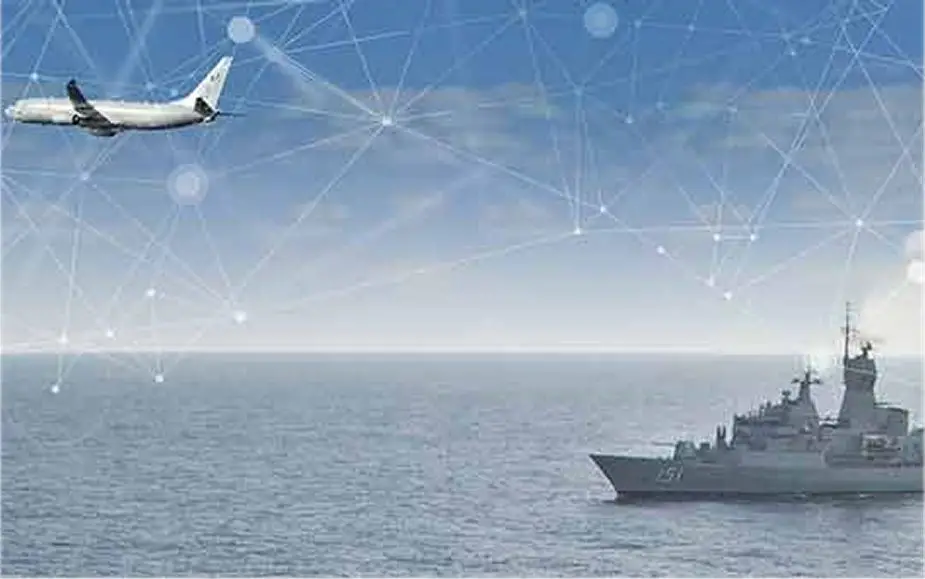 Artist rendering of Leonardo DRS' Link-22 SPC in action (Picture source: Leonardo DRS)
---
Leonardo DRS worked closely with the NILE team to successfully complete all cycles and posture for future advancements. The success illustrates that Leonardo DRS SPCs are compliant with Link-22 Block Cycle 9 specifications for current and emerging mission requirements for users around the world.
Link-22 tactical datalinks are used by the U.S. military and other allied military forces to increase joint and coalition communications in the surface, sub-surface, land, and air domains by providing unprecedented situational awareness across the battle space. It is the primary means to exchange data, including radar tracking information beyond line of sight.
With over 40 years of tactical datalink experience, 1,100 Link-22-capable SPCs and more than 3,000 Link-11 Data Terminal Sets delivered, deployed, and on order, military services around the globe depend on Leonardo DRS for beyond-line-of-sight communications guaranteeing interoperability across domains, platforms, and nations. The Company continues to invest in Link-22 technology, giving users high performance for today's battlefield while offering capability and growth for future mission sets.
Leonardo DRS' Link-22 SPC solution is well-positioned for current missions and is primed to accept additional missions due to its abundance of spare memory and additional processing power. Utilizing next generation hardware and software architecture, coupled with software-defined radio and software-defined modem technologies, the company is able to offer enhanced capabilities while retaining the look, feel, and operational reliability to which the world's operators have grown accustomed. As the trusted supplier of tactical datalink solutions, Leonardo DRS has established itself to deliver leading edge technology to meet customers' requirements and to support their products for decades after delivery.
Leonardo DRS' commonality across hardware and software ensures interoperability between nations during times of long range secured SATCOM, as well as HF/UHF encrypted communications during time of SATCOM-denied operations. With additional, advanced HF waveforms, this solution can expand upon the capabilities inherently found in Link-22.
The 1U SPC is housed in a 1U chassis supporting 2 or 4 channels of Link 22 Signal Processing Controller (SPC) which can be configured as Link 22 tactical data communication on HF fixed frequency, UHF fixed-frequency, and UHF Electronic Protection Measures (EPM) media.
---