---
Rubin Central Design Bureau for Marine Engineering displays Vityaz-D Autonomous Underwater Vehicle at the Army-2021 International Military-Technical Forum.
Follow Navy Recognition on Google News at this link
---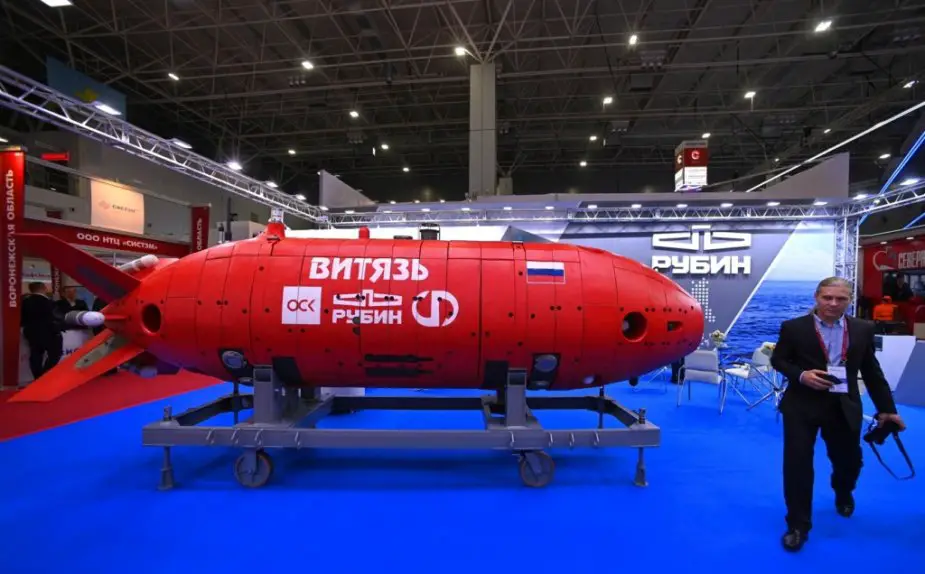 Vityaz-D Autonomous Underwater Vehicle (Picture source: Russian_Patriot_)
---
The Vityaz deep-sea AUV was created by the Rubin Central Design Bureau for Marine Engineering (TsKB MT) (as part of the United Shipbuilding Corporation) in conjunction with the Advanced Research Foundation (FPI). The complex includes an autonomous uninhabited underwater vehicle (AUV) and a sonar bottom station (GDS). The main tactical and technical characteristics of ANPA SGP (super-deep dives): length - 5.7 m; diameter - 1.4 m; weight - 5600 kg; the maximum immersion depth is 12,000 m.
The deep submergence vehicle Vityaz-D, which explored the bottom of the Mariana Trench a month ago, performed its mission automatically according to a program the operator had installed in advance, the CEO of the Central Design Bureau of Marine Engineering Rubin, Igor Vilnit, told TASS in an interview on 10 June 2020.
Shipborne equipment maintains data exchange between the mother vessel and the bottom grab station via a hydroacoustic channel in the online mode. All components are of Russian manufacture. The Vityaz-D vehicle's artificial intelligence resource enables it to steer clear of obstacles and find a way out of confined spaces.
---