---
According to a tweet published by Louischeung_hk on August 29, 2021, news pictures were released of the Chinese Type 003 aircraft carrier at Jiangnan Shipyard. It could be launched in 2021 and enter naval service around 2025.
Follow Navy Recognition on Google News at this link
---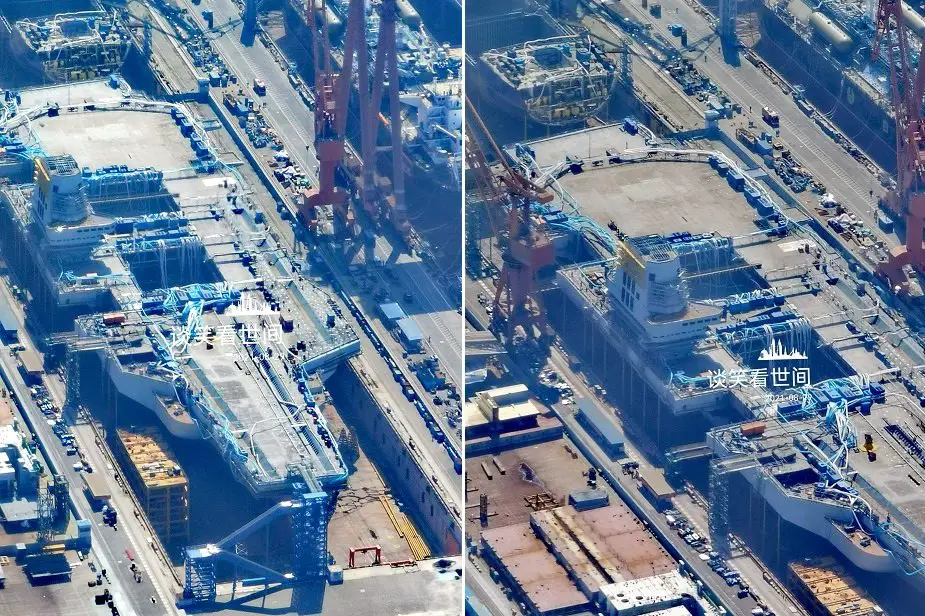 Chinese Type 003 aircraft carrier at Jiangnan Shipyard, Shanghai (Picture source: Twitter account of 谈笑看世间)
---
The Type 003 aircraft carrier is an aircraft carrier under construction for the People's Liberation Army Navy (PLAN) of China. It will be the first Chinese aircraft carrier to use a CATOBAR system and electromagnetic (EM) launch catapults. 
The CATOBAR is a system used for the launch and recovery of aircraft from the deck of an aircraft carrier. Under this technique, aircraft launch using a catapult-assisted take-off and land on the ship (the recovery phase) using arrestor wires.
The carrier's size is expected to be between 85,000-ton and 100,000-ton supercarriers. The Type 003 is approximately 300 meters (984 ft 3 in) long. Commercial satellite imagery indicated that its length was 320 meters and has a flight deck with a width of 78 meters. The Type 003 will be longer than its predecessors and it will also be much wider to allow the transport of more planes.
Taking into account China's interest in unmanned vehicles, 003 aircraft carriers may be equipped with unmanned aerial vehicles, used to carry out surveillance and reconnaissance missions. The 003 aircraft carrier fleet will be equipped for anti-submarine warfare and search and rescue helicopters.
---