---
The Arleigh Burke-class guided-missile destroyer USS Porter (DDG 78), participated in Interoperability Exercises with Ukrainian Naval Forces in the Black Sea on Jan. 30, 2021. Off the coast of Ukraine, in the Black Sea, Porter, along with the Henry J. Kaiser-class underway replenishment oiler USNS Laramie (T-AO-203), operated with three Ukrainian Navy vessels; the Gurza-M-class UKRS Kostopol (P 180) and UKRS Nikopol (P 176), and the Island-class patrol boat UKRS Starobilsk (P 191), as well as a Ukrainian Navy MI-14 helicopter.
Follow Navy Recognition on Google News at this link
---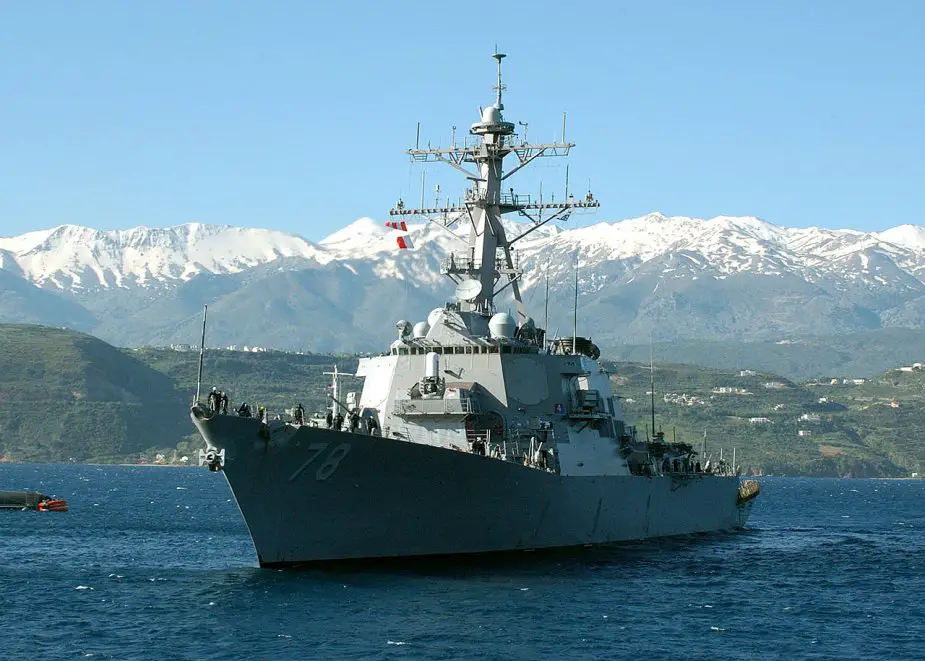 U.S. Navy Arleigh Burke-class guided missile destroyer DDG 78 USS Porter (Picture source: Wikipedia)
---
Porter is on her 9th patrol of the U.S. Sixth Fleet area of responsibility in support of U.S. national security interests in Europe and Africa. The U.S. Navy routinely operates in the Black Sea consistent with international law, including the Montreux Convention.
U.S. Sixth Fleet has provided over $40 million via Section 333 funding to establish Ukraine's baseline Maritime Domain Awareness capability in the development, integration, and linkage of permanently-based and mobile coastal radar sites. These bases and sites are regularly working together with ships like USS Porter to help Ukraine maintain situational awareness of its territorial waters.
The USS Porter (DDG 78) is an Arleigh Burke-class Flight II guided missile destroyer in service with the United States Navy. She was laid down on 2 December 1996, launched and christened on 12 November 1997, and commissioned 20 March 1999, in Port Canaveral, Florida.
The USS Porter Arleigh Burke-class has a full load displacement of 8,300 tons, is 154m (506 feet) in overall length, and has a 20 m (66 foot) beam. The ship is driven by two shafts powered by four General Electric LM2500-30 gas turbines. Their maximum speed is in excess of 30 knots (56 km/h) and they have a cruising range of 4,400 n. miles at 20 knots (8,100 km at 37 km/h). The ship complement is about 33 officers, 38 chief petty officers, and 210 enlisted personnel.
The USS Porter has the AEGIS air defense system with the SPY-1D phased array radar. She is armed with a 90-cell Vertical Launching System capable of storing and rapidly firing a mix of Standard, Tomahawk, and Vertically Launched ASROC (VLA) missiles for either Air Defense, Strike Warfare, or Anti-Submarine Warfare missions. Other armament includes the Harpoon anti-ship cruise missile, the 5"/54 naval gun with improvements that integrate it with the AEGIS weapon system, and the Phalanx Close-in Weapon System for self-defense.
---