---
According to a news published by United States Department of Defense, the guided-missile destroyer USS Rafael Peralta arrived at its new homeport here Thursday, bringing with it some of the Navy's most advanced capabilities, according to Naval Forces Japan.
Follow Navy Recognition on Google News at this link
---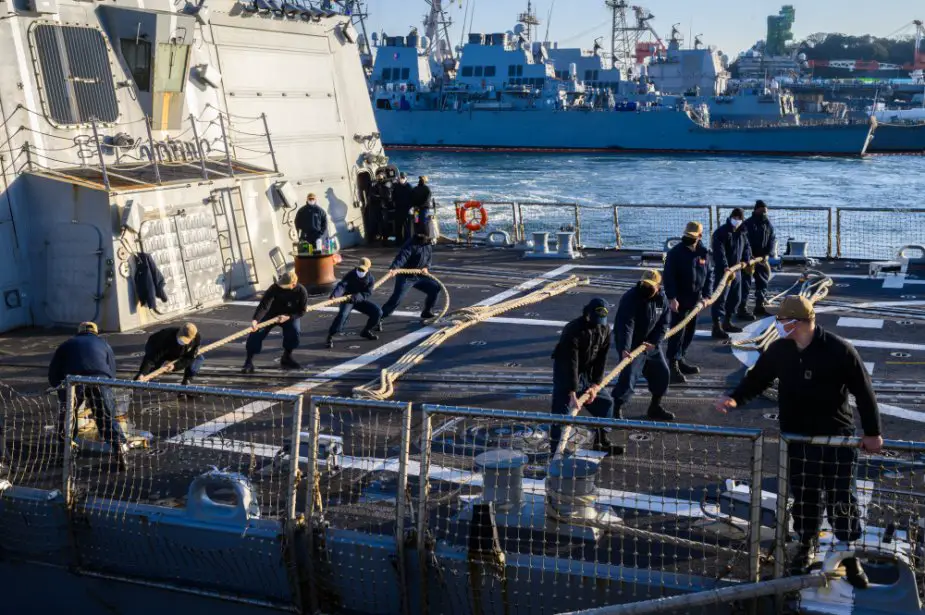 Guided-missile destroyer USS Rafael Peralta DDG 115  (Picture source: US Navy)
---
Commissioned in San Diego in July 2017, the Rafael Peralta is one of the Navy's newest destroyers and is outfitted with the Aegis Baseline 9 combat system. It can deploy with two MH-60 Seahawk helicopters and "has improved ballistic missile defense, anti-air and surface warfare capabilities," according to a statement from Naval Forces Japan.
Moving the Rafael Peralta to Japan from San Diego aligns with a national defense strategy that places the most capable units in the Indo-Pacific region, according to the statement.
The Navy for years has been working to increase the fleet size in the military's priority theater — even before the USS Fitzgerald moved from Yokosuka to Mississippi for repairs after its 2017 collision that killed seven sailors.
There are now seven guided-missile destroyers deployed to Yokosuka, with the Peralta joining the Milius, USS Barry, USS Cutis Wilbur, USS Benfold, USS John S. McCain and USS Mustin, according to 7th Fleet spokesman Lt. Joe Keiley.
Yokosuka is also home to three guided-missile cruisers - the USS Antietam, USS Shiloh and USS Chancellorsville - aircraft carrier USS Ronald Reagan and command ship USS Blue Ridge.
USS Rafael Peralta is equipped with the Aegis Baseline 9 Combat System which includes an Integrated Air and Missile Defense (IAMD) capability incorporating Ballistic Missile Defense 5.0 Capability Upgrade and Naval Integrated Fire Control-Counter Air capability. The ship's IAMD radar will provide increased computing power and radar upgrades that improve detection and reaction capabilities against modern air warfare threats. The Aegis Combat System will enable the ship to link radars with other ships and aircraft to provide a composite picture of the battlespace and effectively increase the theater space.
---