---
According to information published by French Ministry for Armed Forces on February 18, 2021, French aircraft carrier Charles de Gaulle which is based on Toulon is about to set sail on a news mission. The mission will mark the start of the "Clemenceau 21" mission which is involved in the fight against terrorism for several months, in the Mediterranean, in the Indian Ocean and the Arabian Gulf. The carrier is part of a group of ships which will be deployed for several months.
Follow Navy Recognition on Google News at this link
---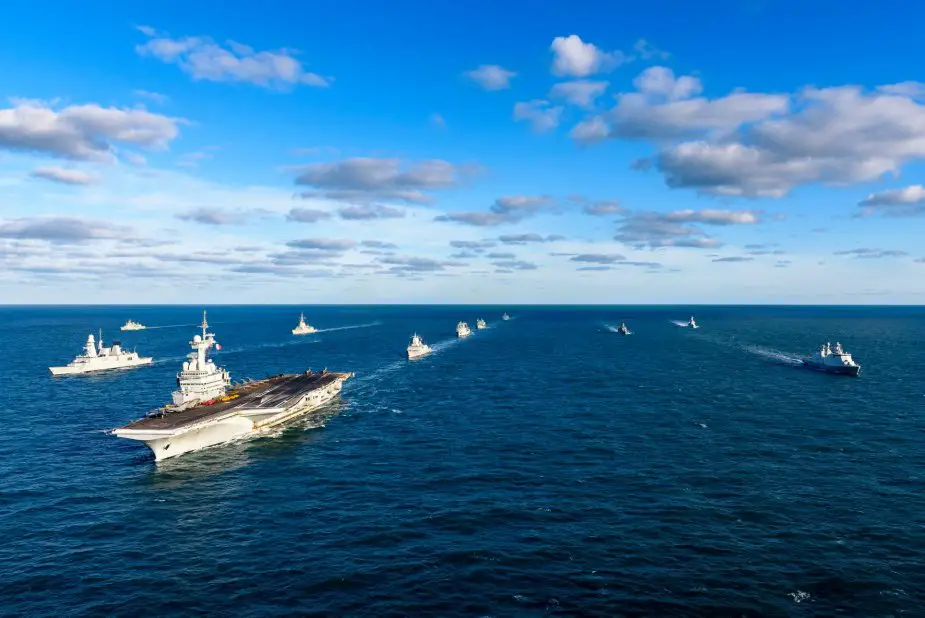 French Carrier Strike Group (Picture source: French Ministry for Armed Forces)

---
The carrier strike group (CSG) is composed of French aircraft carrier Charles De Gaulle, Horizon-class frigate "Chevalier Paul", FREMM Class "Provence" frigate and the Fleet Support Ship "Var."
Carrier Vessel Nuclear Charles de Gaulle has a displacement of 42,500 tons, a 75-meter deck for catapult launching and landing aircraft weighing 15 to 25 tons and an acceleration from 0 to 260 km/h.
Chevalier Paul is a Horizon-class frigate of the French Marine Nationale commissioned in June 2009, the third vessel of the French Navy named after the 17th century admiral Chevalier Paul. The main mission of this type of ship is the escort and protection of a carrier strike group formed around an aircraft carrier, usually the French aircraft carrier Charles de Gaulle or an amphibious operation carried out by amphibious helicopter carriers. The ships specialty is air traffic control in a war zone, but it can be employed in a wide variety of missions, such as intelligence-gathering, special forces operations, or in protecting less well-armed vessels.
Auvergne (D654) and Provence (D652) are Aquitaine-class frigate of the French Navy. The Aquitaine class were developed from the FREMM multipurpose frigate program.
Var is a Durance-class command and replenishment tanker (BCR) of the French Navy. In addition to its primary duty as a fleet tanker, Var is configured as a flagship and has served as such in the Indian Ocean.
One nuclear submarine (SNA) which is playing the role of a scout and provides early warning for the force.
The Atlantique 2 maritime patrol aicraft, based on land and integrated into the carrier strike group, perform intelligence missions on the high seas, as well as anti-submarine warfare.
The F3-R standard is an evolution of the Rafale F3 standard, with the exceptional versatility being further reinforced. It is part of the ongoing process to continuously improve the aircraft in line with the operational requirements and the feedback from experience of the pilotes.
The E-2C is a twin engine, five crewmember, high-wing turboprop aircraft with a 24-foot diameter radar rotodome attached to the upper fuselage. The Hawkeye provides all-weather airborne early warning, airborne battle management and command and control functions for the Carrier Strike Group and Joint Force Commander. Additional missions include surface surveillance coordination, air interdiction, offensive and defensive counter air control, close-air support coordination, time critical strike coordination, search and rescue airborne coordination and communications relay.
The Eurocopter (now Airbus Helicopters) AS365 Dauphin (Dolphin), also formerly known as the Aérospatiale SA 365 Dauphin 2, is a medium-weight multipurpose twin-engine helicopter produced by Airbus Helicopters.
The NHIndustries NH90 is a medium-sized, twin-engine, multi-role military helicopter. It was developed in response to NATO requirements for a battlefield helicopter which would also be capable of being operated in naval environments. The NH90 was developed and is manufactured by NHIndustries, a collaborative company owned by Airbus Helicopters, Leonardo (formerly AgustaWestland) and Fokker Aerostructures. The first prototype conducted its maiden flight in December 1995; the type first entered operational service in 2007.
---