---
According to information published by PT Pal Indonesia on January 7, 2021, the company has launched Hospital Assistance Ship (BRS) Sudirohusodo-class ordered by the Indonesian Navy. The ship was officially named dr. Wahidin Sudirohusodo (991).
Follow Navy Recognition on Google News at this link
---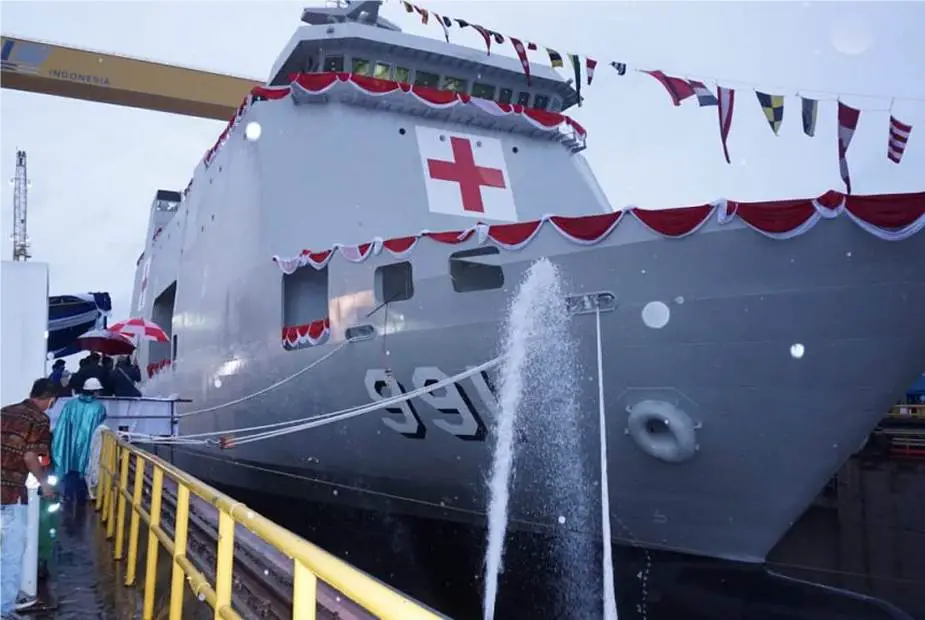 Hospital Assistance Ship Wahidin Sudirohusodo 991 for the Indonesian Navy. (Picture source PT Pal)
---
PT PAL is an Indonesian state-owned shipyard that manufactures ships for military and civilian use and conducts repairs and maintenance on ships and engineering. The Hospital Assistance Ship Wahidin Soedirohusodo is based on the Makassar-class Landing Platform Dock (LPD) design of South Korean company Daesun Shipbuilding & Engineering Co.
The official launching ceremony was attended by the Indonesia Chief of Naval Staff (KASAL) Admiral TNI Yudo Margono, Plt. President Director of PT PAL Indonesia (Persero) and Mrs. Etty Soewardani.
The Hospital Assistance Ship Wahidin Sudirohusodo (991) has a length of 124 m, a wide of 21.8 m, and a displacement of 7.290 tons. She can reach a top speed of 18knots and has a cruising speed of 14 knots with a maximum cruising range of 10,000 nautical miles. The hospital ship has an endurance of 30 days.
The Hospital Assistance Ship has a crew of 120 sailors and can accommodate 66 medical personnel. The ship is able to conduct a full range of missions including rapid, flexible, and mobile acute medical and surgical services to support Marine forces deployed ashore, Army and Air Force units deployed ashore, and naval amphibious task forces and battle forces afloat. The ship can be also used to carry out medical evacuation missions and has the capability to transport medical helicopters, ambulance boats, and LCVPs (landing craft, vehicle, personnel).
The Hospital Assistance Ship has the same capability as Type C military Hospital plus a number of medical equipment such as CT Scan and X-Ray, as well as Isolation Room very useful for tackling infectious outbreaks such as Covid-19.
---