---
According to information published by the Iranian press agency Tasnim on January 13, 2021, the Iranian Navy has received a new Zereh (Armor) missile-launching ship (P235)  on the first day of a naval drill, dubbed Eqtedar (Power).
Follow Navy Recognition on Google News at this link
---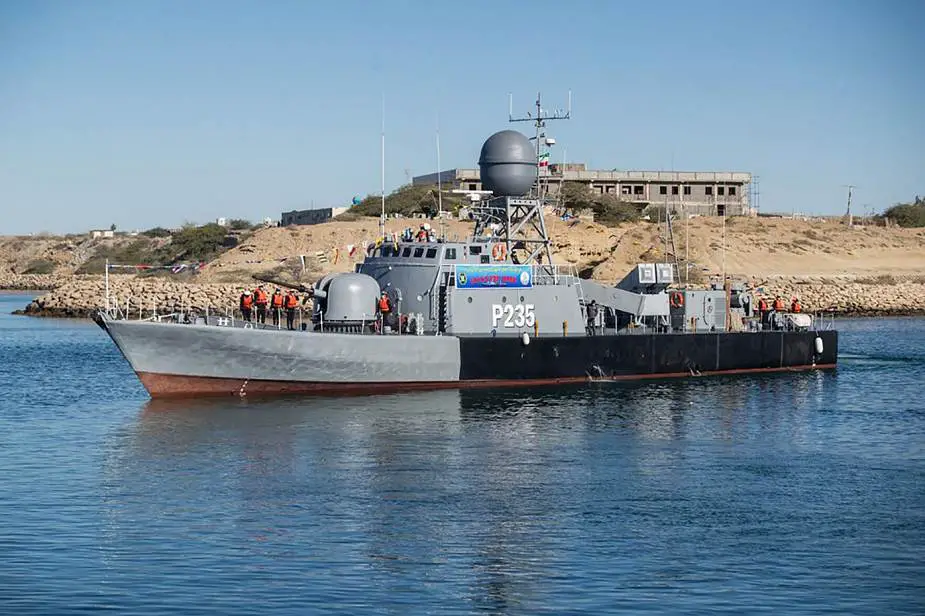 New Iranian-navy Zereh F235 missile-launching ship. (Picture source Tasnim Press agency)
---
According to the Navy Recognition editorial team analysis of pictures released on the Internet, the new Zereh (Armor) is a Sina-class or Kaman-class fast attack craft which is an upgrade of the Combattante II missile boats from France. 

Iran bought 12 Combattante II fast attack craft from France that were delivered between 1974 and 1981. According to Iranian military sources, the ship is named Kaman-class.  The ship is powered by four MTU MD 16V 538 TB90 engines developing 12,000 hp. She can reach a top speed of 36 knots (67 km/h; 41 mph) and has a cruising range of 570 nautical miles (1,060 km; 660 mi) at 30 knots (56 km/h; 35 mph) or 1,600 nautical miles (3,000 km; 1,800 mi) at 15 knots (28 km/h; 17 mph).

The original version of the Kaman-class was equipped with sensors and processing systems from French company Thomson-CSF but the new version of the Iranian Navy seems to be upgraded with local-made combat electronic systems and improved fire control radar.

The main armament of the new Zereh (Armor) (F235) missile-launching ship includes one 76mm OTO-Melara automatic cannon located at the front deck and one Bofors 40 mm/70 automatic cannon mounted at the rear deck. The ship is also fitted with four container launchers able to fire the Noor, a license-produced copy of the Chinese C-802 anti-ship missile, which is the export upgraded version of the Chinese-made YJ-8 anti-ship missile. The Noor missile is powered by Toloue-4, an Iranian version of the French Microturbo TRI 60 engine. It is fitted with a high-explosive fragmentation warhead and has a range from 30 to 170 km.
---