---
According to a video released by the Australian Department of Defence (DoD) on January 14, 2021, the new Auxiliary Oiler Replenishment (AOR) ship for the Australian Navy, NUSHIP Supply A195 arrived at her home port for the first time, at Fleet Base East in Sydney, New South Wales, on 15 January 2021. The ship is expected to commission into the Royal Australian Navy in April 2021.
Follow Navy Recognition on Google News at this link
---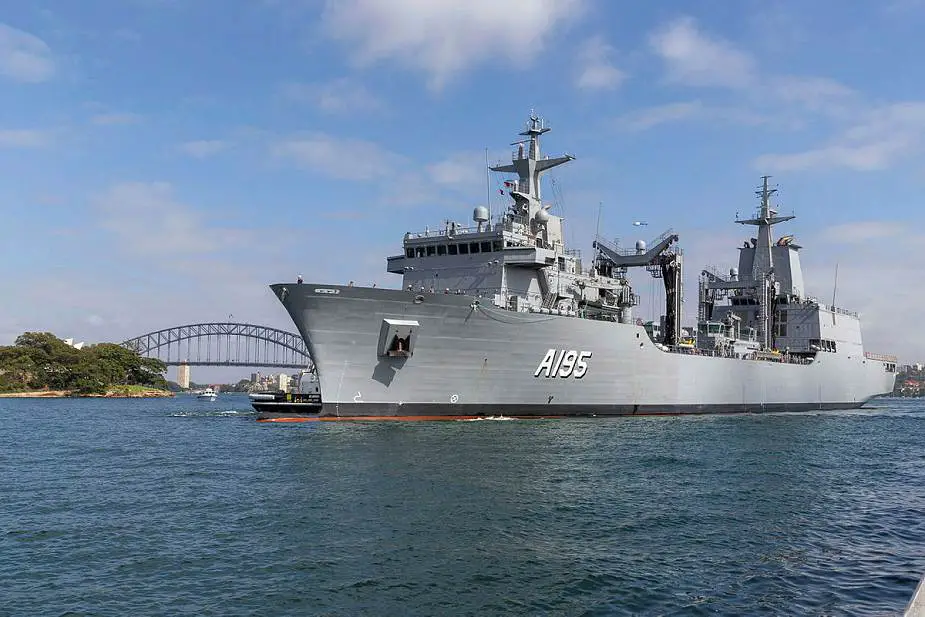 Australian Navy Auxiliary Oiler Replenishment (AOR) ship, NUSHIP Supply arrived at her home port for the first time, at Fleet Base East in Sydney, New South Wales, on 15 January 2021. (Picture source Australian Navy)
---
The Australian Government signed contracts with Spanish company Navantia S.A to build Australia's two replacement auxiliary oiler replenishment (AOR) ships in May 2016. Navantia was selected to build a design based on the Spanish Navy's current replenishment vessel Cantabria, which entered service in 2011. The ship was launched in Ferrol, Spain, in November 2018 and arrived at HMAS Stirling, Garden Island Fleet Base West, Western Australia, on 2 October 2020 for final fit-out and testing activities.

NUSHIP Supply (II) A195 is the lead ship of two Supply Class Auxiliary Oiler Replenishment (AOR) ships currently being built for the Royal Australian Navy by Spanish shipbuilder, Navantia. The Australian Supply Class ships are based on the Spanish Navy's Cantabria Class design. The Supply-class ships will replace existing vessels retired HMAS Success and HMAS Sirius.
The ships are intended to carry fuel, dry cargo, water, food, ammunition, equipment and spare parts to provide operational support for the deployed naval or combat forces operating far from the port on the high seas for longer periods.
In addition to replenishment, the vessels can be used to combat environmental pollution at sea, provide logistics support for the armed forces, and support humanitarian and disaster relief (HADR) operations following a natural disaster.
The NUSHIP Supply A195 has a displacement of 19,500 tons, is 173.9 meters (570 ft) in length, has a beam of 23 meters (75 ft), and a draught of 8 meters (26 ft). The ship is powered by two MAN 18V 32/40 diesel engines, supplying 10,890 kilowatts (14,600 hp) to a single propeller shaft, which is fitted with a controllable-pitch propeller. The propulsion system also includes four MAN 7L21/31 generator sets
The NUSHIP Supply has a maximum sustained speed of 20 knots (37 km/h; 23 mph), and a range of 6,000 nautical miles (11,000 km; 6,900 mi). The ship has a crew of 122 sailors. She has a flight deck that can be used to operate one helicopter. For its self-protection, the ship is armed with one Phalanx CIWS 20mm Close-In Weapon System, two Typhoon Remote Weapon Stations armed with 25mm automatic cannons and four 12.7mm heavy machine guns.

The ship's capacity includes 8,920 cubic meters (315,000 cu ft) of ship fuel, 1,585 cubic meters (56,000 cu ft) of JP-5 jet fuel, 215 cubic meters (7,600 cu ft) of freshwater, 280 tons of ammunition, and 470 tons of general cargo. The fuel storage areas are double-hulled. Cantabria can replenish three ships simultaneously; one on each side, plus a third via a stern refueling station.
---