---
The Theodore Roosevelt Carrier Strike Group (TRCSG) entered the South China Sea January 23 to conduct routine operations. The TRCSG is on a scheduled deployment to the U.S. 7th Fleet to ensure freedom of the seas, build partnerships that foster maritime security, and conduct a wide range of operations.
Follow Navy Recognition on Google News at this link
---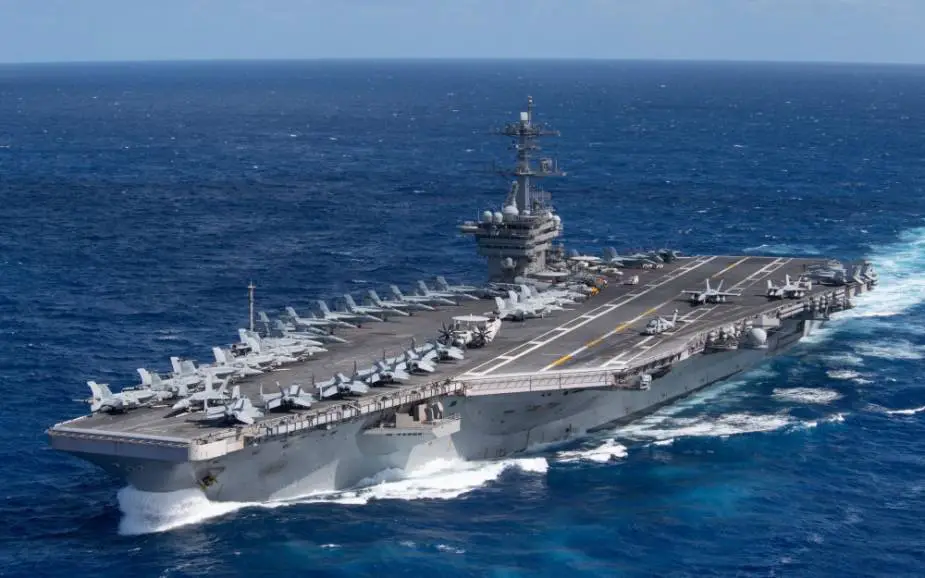 USS Theodore Roosevelt (CVN 71) (Picture source: U.S. Navy/Mass Communication Specialist Seaman Kaylianna Genier)
---
"After sailing through these waters throughout my 30-year career, it's great to be in the South China Sea again, conducting routine operations, promoting freedom of the seas, and reassuring allies and partners," said Rear Adm. Doug Verissimo, commander, Carrier Strike Group Nine. "With two-thirds of the world's trade travelling through this very important region, it is vital that we maintain our presence and continue to promote the rules-based order which has allowed us all to prosper. While we miss visiting our allies and partners in the region in person, we're grateful for all the opportunities we have to operate with them at sea."
While in the South China Sea, the strike group is conducting maritime security operations, which include flight operations with fixed and rotary-wing aircraft, maritime strike exercises, and coordinated tactical training between surface and air units. "We all benefit from free and open access to the seas and our operations represent our commitment to maintaining regional security and stability," said Capt. Eric Anduze, USS Theodore Roosevelt's commanding officer. "I'm incredibly proud of the work and professionalism this crew shows every day operating on the high seas." 
---

USS Theodore Roosevelt (CVN 71) transits the Pacific Ocean Jan. 15, 2021 (Picture source: U.S. Navy/Petty Officer 2nd Class Casey S)
---
The TRCSG consists of USS Theodore Roosevelt (CVN 71), Carrier Air Wing (CVW) 11, the Ticonderoga-class guided-missile cruiser USS Bunker Hill (CG 52), Destroyer Squadron 23, and the Arleigh Burke-class guided-missile destroyers USS Russell (DDG 59) and USS John Finn (DDG 113).
TRCSG's operability in the region directly supports the Chief of Naval Operation's navigation plan to master all-domain fleet operations, and exercise with like-minded navies to enhance our collective strength.
7th Fleet is the U.S. Navy's largest forward-deployed fleet and employs 50 to 70 ships and submarines across the Western Pacific and Indian Oceans. 7th Fleet routinely operates and interacts with 35 maritime nations while conducting missions to preserve and protect a free and open Indo-Pacific region.
Theodore Roosevelt's embarked air wing consists of the "Tomcatters" of Strike Fighter Squadrons (VFA) 31, "Golden Warriors" of VFA-87, "Blue Diamonds" of VFA-146, "Black Knights" of VFA-154, "Liberty Bells" of Airborne Command and Control Squadron (VAW) 115, "The Gray Wolves" of Electronic Attack Squadron (VAQ) 142, "Wolf Pack" of Helicopter Maritime Strike Squadron (HSM) 75, "Eightballers" of Helicopter Sea Combat Squadron (HSC) 8 and "Providers" of Fleet Logistic Support Squadron (VRC) 30 Detachment 3.
---
An F/A-18E Super Hornet, assigned to the "Blue Diamonds" of Strike Fighter Squadron (VFA) 146, lands on the flight deck of the aircraft carrier USS Theodore Roosevelt (CVN 71) Jan. 20, 2021 (Picture source: U.S. Navy/Petty Officer 3rd Class Dartanon)
---