---
According to information published by the British Navy, the British Navy HMS Protector is back at sea after a £14m ten-month revamp to enhance her ability to work in Antarctica. The ship is now better suited to serve on the edge of the frozen wasteland of the Antarctic.
Follow Navy Recognition on Google News at this link
---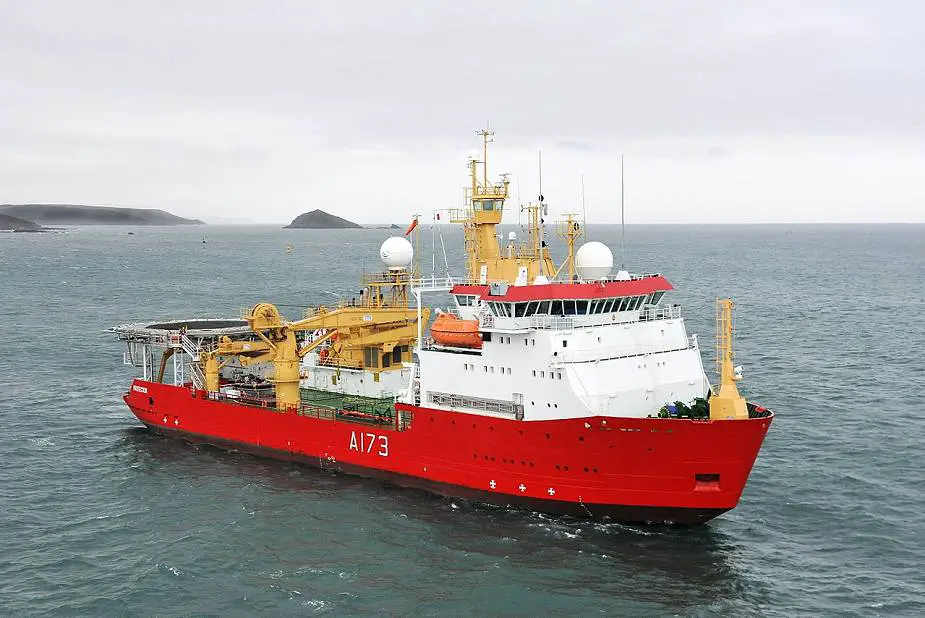 British Royal Navy Antarctic Patrol Vessel HMS Protector. (Picture source Wikipedia)
---
The British Navy HMS Protector left Teesside after the biggest and longest overhaul during her ten-year career under the White Ensign.

The ship spent five months out of the water and was originally due to emerging from a refit in the autumn, before heading south to update maritime charts of Antarctic waters using her hi-tech suite of sensors, as well as conducting scientific research alongside civilian experts.

As well as the usual refit work overhauling engines, generators, re-covering the distinctive red/white hull with specialized paint by hand and removing the propeller shaft for inspection in Denmark before reinstalling it – the revamp has created better cargo space, a new quarter deck structure with a naval stores complex, workshop to maintain the upgraded small boats and launches Protector carries, and there's a new gym packed with £50,000 of the latest fitness gear for the sailors and Royal Marines.
The HMS Protector is a British Royal Navy ice patrol ship built in Norway in mid-2000. The ship is designed and built for long Antarctic expeditions and for supporting subsea work. She has an overall length of 89 m, a beam of 18 m, a draft of 8.35 m, and a displacement of 5,00 tons.
Protector operates several small boats, including the survey motor boat James Caird IV, the ramped work boat Terra Nova and two Pacific 22 RIBs Nimrod and Aurora. She also embarks three BV206 all-terrain vehicles and a number of quad-bikes and trailers for activities on Antarctica, such as moving stores and equipment
---