---
According to a press release published by Terma on May 27, 2021, the firm was recently awarded a contract to supply a SCANTER 6002 radar for the latest Indonesian Navy's Hospital Assistance Ship (BRS). The radar delivery is planned for June 2021. The award follows a previous contract signed in 2019 to supply a similar radar for the BRS "Wahidin Soedirohusodo", delivered in January 2021.
Follow Navy Recognition on Google News at this link
---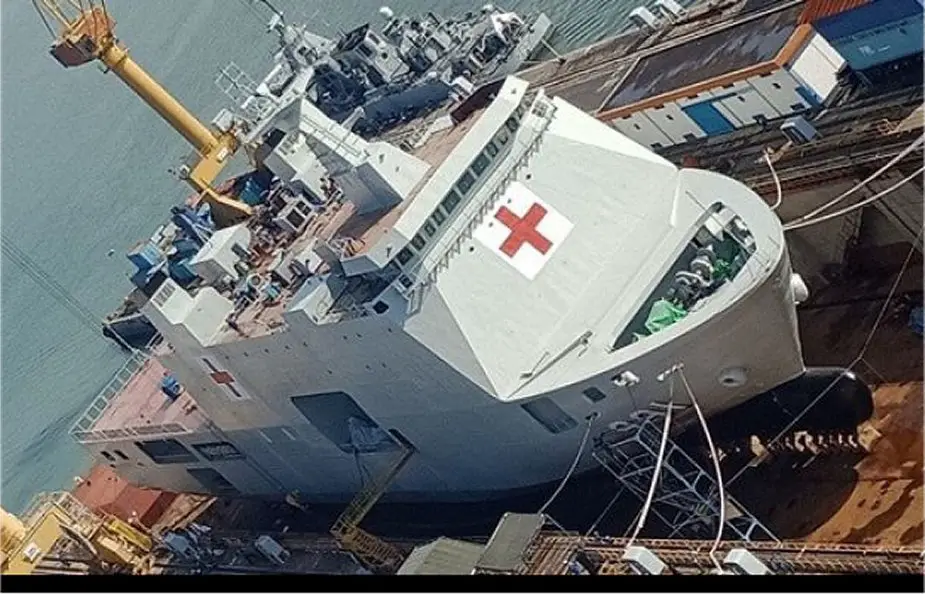 BRS Wahidin Soedirohusodo (Picture source: Askara)
---
Hospital ships are vessels designed to act as floating medical treatment facilities for humanitarian missions or for use in war zones. Under the new contract, Terma will deliver the radar in June 2021 to support the latest Indonesian Navy Hospital Assistance Ship (BRS).
The Indonesian Navy's BRS built in Surabaya by the Indonesian state-owned shipyard PT PAL is 124 meters long, 21.8 meters wide, and able to host more than 600 people including crew, troops, and patients. According to PT PAL, the BRS can accommodate medical personnel to carry-out operational missions equivalent to those of a regular hospital. The BRS will be fitted with polyclinic facilities, emergency rooms, a radiology unit, and more.
Indonesia being prone to natural disasters such as earthquakes, volcanic eruptions, and tsunamis, assets such as the Hospital Ships are paramount to promptly ensure rescue and evacuation missions when needed. For this specific capability, each Hospital Ship is equipped with two helicopter landing spots, ensuring that the personnel, as well as the patients, can be readily and safely moved to and from the vessel.
The SCANTER 6002 is a surveillance radar with unparalleled helicopter landing control capabilities, which perfectly suits the missions carried out by the Hospital Ships.
Throughout the years, Terma has supplied numerous mission critical solutions in Indonesia, for all theatres of operations (air, land and sea). The main customers include the Indonesian Navy and Air Force, the Indonesian Coast Guards (Bakamla) and Sea and Coast Guard (KPLP), the Directorate General of Sea Transportation (DGST), and Jakarta Soekarno–Hatta International Airport.
In January 2019, Terma was awarded a major contract for the supply of complete C-Series Combat suites for four KCR-60 Fast Attack Craft also including SCANTER surveillance radars.
In Asia Pacific alone, more than 500 SCANTER radars are in operation on land and at sea to support missions such as coastal surveillance, vessel traffic management, and airport surface movement and naval surveillance. Globally, Terma has delivered more than 3,000 SCANTER radars.
The SCANTER 6000 radar series offers superior detection and tracking capabilities of small surface targets and of air targets in the near airspace around the vessel. The Surface Surveillance capabilities of the SCANTER 6000 series are ideal for search-and-rescue operations and law enforcement tasks, e.g. control of illegal immigration, smugglers, and piracy.
The SCANTER 6000 series is a major contributor to the Situational Awareness picture for all types of vessels from Border Police and Patrol Vessels to Frigates.
The SCANTER 6002 radar is fully integrated with various renowned marine navigation display applications, providing enhanced support for safe navigation and collision avoidance beyond the capability of standard navigation radar systems.
The SCANTER 6002 is IMO certified. Hence, the system configuration meets the latest performance standards of the International Maritime Organization and International Electrotechnical Commission (IMO). The SCANTER 6002 provides improved small target detection and automatic
environmental adaptation for enhanced detection performance in all weather conditions.
The SCANTER 6000 series monitors the near airspace around the vessel and is capable of detecting and tracking helicopters, propeller, and jet aircraft out to 10-15 nmi and up to 6000 ft. altitude providing low airspace monitoring and surveillance.
---