---
According to information released by the Portuguese Navy, the NRP Tridente diesel/electric powered submarine of the Portuguese Navy has joined the NATO mission Sea Guardian and will support the European Union's Operation IRINI.
Follow Navy Recognition on Google News at this link
---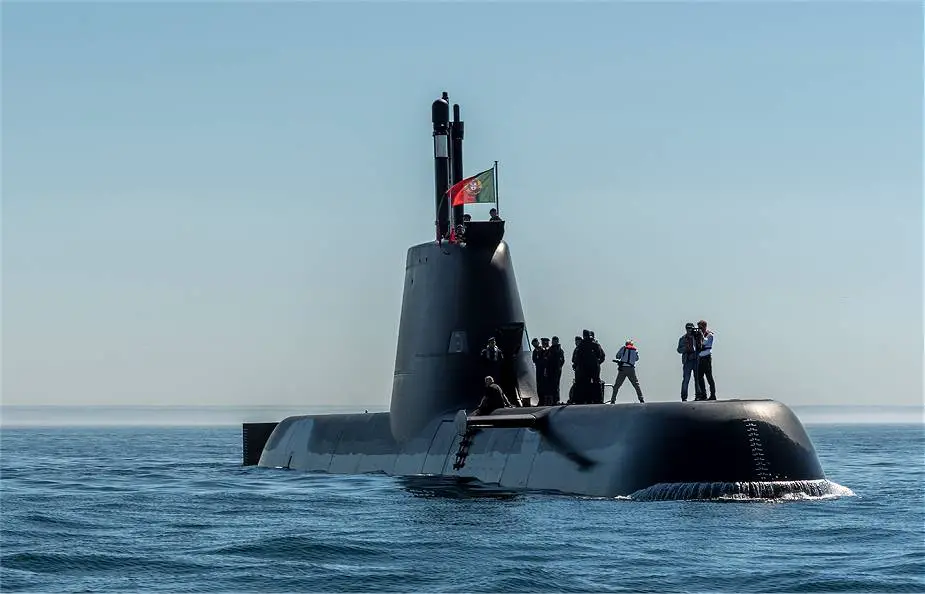 NRP Tridente diesel/electric powered submarine of the Portuguese Navy. (Picture source Portuguese Navy)
---
Operation Sea Guardian is a flexible operation that can potentially cover the full range of NATO's maritime security operation (MSO) tasks. At present, it is operating in the Mediterranean and is conducting three MSO tasks: maritime security capacity building, and support to maritime situational awareness and to maritime counter-terrorism.
Through Operation Sea Guardian, NATO is contributing to the maintenance of a secure and safe maritime environment, while collaborating with other actors, such as the European Union (EU) by providing – until its termination – support for instance to Operation Sophia.
The European Union Naval Force Mediterranean Operation IRINI (EUNAVFOR MED IRINI) was launched on March 31, 2020, with the aim to enforce the United Nations arms embargo to Libya due to the Second Libyan Civil War. Operation IRINI is a European Union military operation under the umbrella of the Common Security and Defense Policy (CSDP). The operation is expected to use aerial, maritime, and satellite assets.
The NRP Tridente (S160) is a Tridente-class diesel-electric powered submarine in service with the Portuguese Navy. The submarine is based on the Type 214 submarine developed by the German company Howaldtswerke-Deutsche Werft GmbH (HDW) for the Portuguese Navy. Currently, two Tridente-class submarines are deployed with the Portuguese navy.
The NRP Tridente has a length of 67.7 m, a beam of 6.35, a draught of 6.6 m, and a displacement of 2,020 tons maximum. It can reach a top surface speed of 10 knots (19 km/h) and 20 knots (37 km/h) in submerged conditions with a maximum cruising range of 12,000 nautical miles (22,000 km). She has a crew of 33 people.
The NRP Tridente is fitted with 533mm torpedo tubes able to launch Black Shark, a heavyweight torpedo developed by the Italian company WASS. The Black Shark torpedo offers fiber optic wire for increased bandwidth and signals processing ability compared to copper wire-guided torpedo types. The sonar capability includes non-doppler shifted target discrimination and multi-frequency capability that features advanced spatial and angular analysis abilities. The brushless motor design coupled with the aluminum-silver oxide (Al-AgO) battery gives the torpedo to reach a top speed of 50+ knots (93+ km/h) and an effective firing range of 50 km.
---