---
According to information published by the Twitter account of the Chief of Navy Australia on June 22, 2021, the newest ship of the Australian Navy's future fleet, NUSHIP Stalwart has arrived at her homeport of Fleet Base West for the first time.
Follow Navy Recognition on Google News at this link
---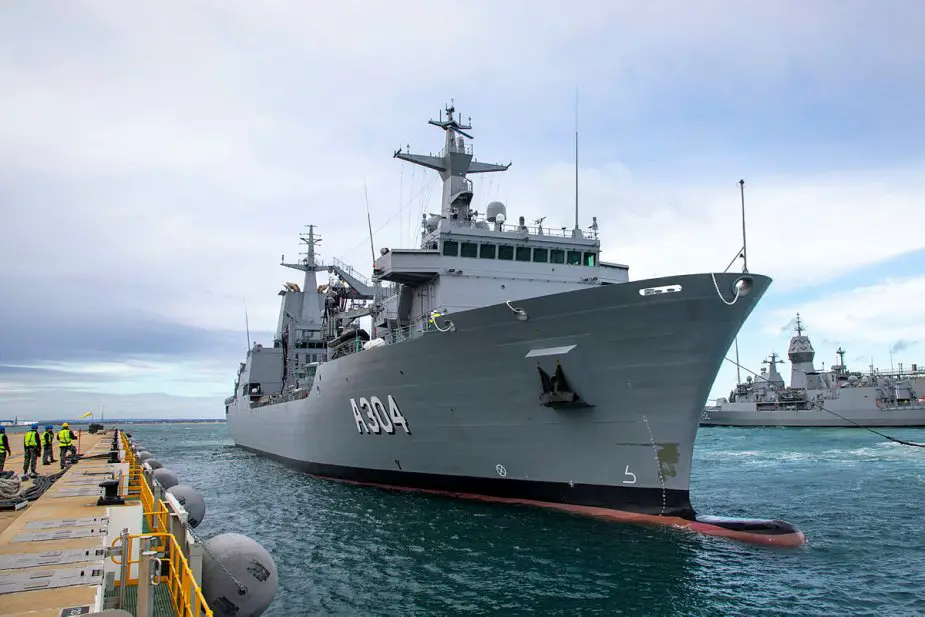 NUSHIP Stalwart arriving at Fleet Base West, Australia (Picture source: Twitter account of the Chief of Navy Australia)
---
HMAS Stalwart is the second of the Navantia built Supply-class replenishment oiler for the Royal Australian Navy. It had its keel laid in November 2018 as a part of the SEA 1654 Phase 3 project.
HMAS Stalwart (III) and her sister ship HMAS Supply (II) will replace HMAS Success and HMAS Sirius with a single class of two AOR Ships to sustain deployed maritime forces. The two ships are based on the Spanish Cantabria class and were built at the Ferrol shipyard.
The vessel has an overall length of 173.9 m, a displacement of 19,500 t, and a full-load deadweight of 9,800 tons. Its design draught and beams will be 8 m and 23 m respectively.
The Supply class is a class of replenishment oilers of the Royal Australian Navy, a role that combines the missions of a tanker and stores supply ship. As such they are designated auxiliary oiler replenisher (AOR). They will be tasked with providing ammunition, fuel, food and other supplies to Royal Australian Navy vessels around the world.
A replenishment oiler or replenishment tanker is a naval auxiliary ship with fuel tanks and dry cargo holds which can supply both fuel and dry stores during underway replenishment (UNREP) at sea. Many countries have used replenishment oilers.
---