---
According to a tweet published by Japan Ministry of Defense on March 3, 2021, the naming and launching ceremony was held at Mitsubishi Heavy Industries Co., Ltd. Nagasaki Shipyard for the new type of destroyer (FFM). The destroyer was named Mogami after the Mogami river which flows through Yamagata Pre. from South to North.
Follow Navy Recognition on Google News at this link
---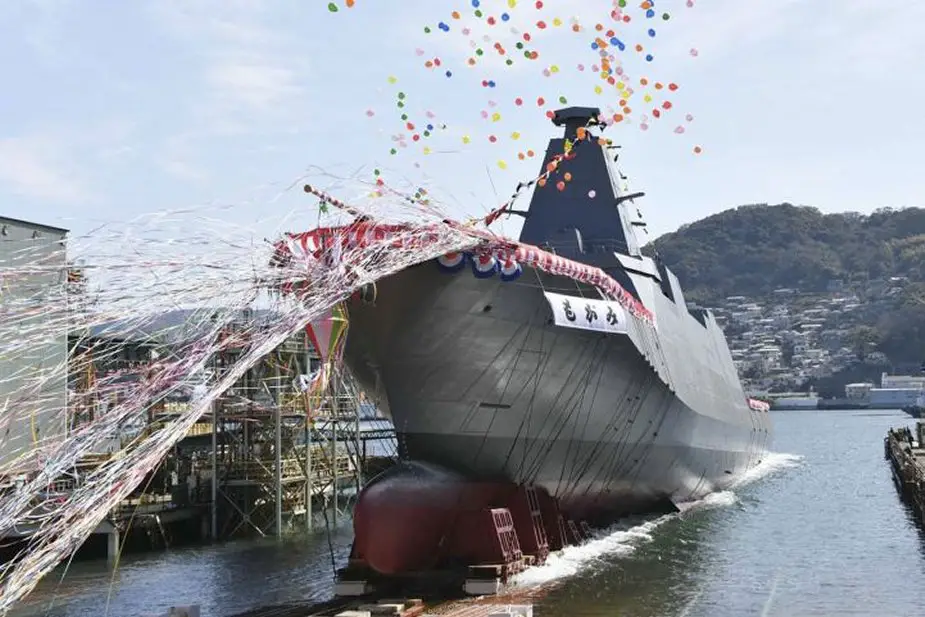 first of Mogami-class FFM frigate for the Japan Maritime Self Defence Force (Picture source: Twitter)
---
JS Mogami is built based on the Medium Term Defense Program (FY 2019 – FY 2023). This is a smaller type of destroyer than current types to fulfill the need of labor saving, and it was designed to improve multimission capabilities including anti-mine warfare.
The Mogami-class frigate (also known as 30DX) is a Japanese stealthy multi-mission frigate in development for the Japan Maritime Self-Defense Force (JMSDF).
The 30DX design has an overall length of 130 m, breadth of 16 m, a standard displacement of 3900 tons with a full load displacement of about 5500 tons, and a maximum speed of over 30 knots. Weapons include a Mk 45 gun, two remote weapon station above the bridge, 16 Mk 41 VLS at the bow, 8 anti-ship missiles, one SeaRAM, an SH-60Lhelicopter, torpedoes, and decoy launchers. It can also deploy and recover UUV, USV, and sea mines from the rear ramp beneath the helideck. It is also expected to use a naval version of the Type 03 Chū-SAM.
---