---
According to a press release published US Navy on March 2, 2021, the Dwight D. Eisenhower Carrier Strike Group is conducting flight operations in U.S. 6th Fleet (C6F) to support maritime security operations in international waters alongside allies and partners of the USA.
Follow Navy Recognition on Google News at this link
---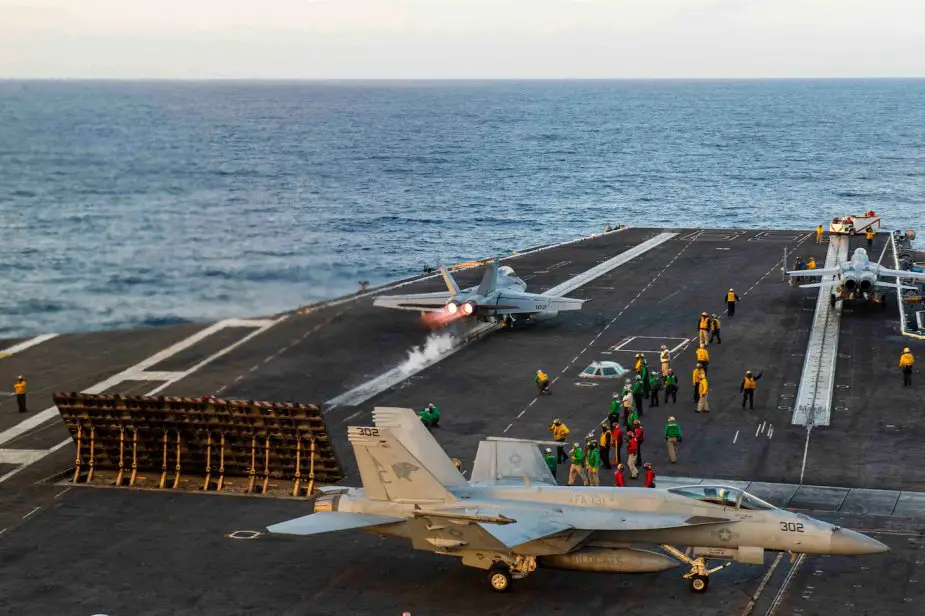 An F/A-18F Super Hornet attached to the "Fighting Swordsmen" of Strike Fighter Squadron VFA 32 launches from the flight deck aboard the Nimitz-class aircraft carrier USS Dwight D. Eisenhower CVN 69 (Picture source: US Navy)
---
Dwight D. Eisenhower Carrier Strike Group is a multiplatform team of ships, aircraft and more than 5,000 Sailors, capable of carrying out a wide variety of missions around the globe.
Deploying ships and aircraft of the strike group, commanded by Rear Adm. Scott Robertson, include flagship USS Dwight D. Eisenhower (CVN 69); Ticonderoga-class guided-missile cruisers USS Monterey (CG 61); Destroyer Squadron 22 ships include Arleigh Burke-class guided-missile destroyers USS Mitscher (DDG 57), USS Laboon (DDG 58), USS Mahan (DDG 72), USS Porter (DDG 78), and USS Thomas Hudner (DDG 116).
Squadrons of Carrier Air Wing (CVW) 3, embarked on Eisenhower include the "Fighting Swordsmen" of Strike Fighter Squadron (VFA) 32, "Gunslingers" of Strike Fighter Squadron (VFA) 105, "Wildcats" of Strike Fighter Squadron (VFA) 131, "Rampagers" of Strike Fighter Squadron (VFA) 83; "Dusty Dogs" of Helicopter Sea Combat Squadron (HSC) 7; "Swamp Foxes" of Helicopter Maritime Strike Squadron (HSM) 74; "Screwtops" of Airborne Command and Control Squadron (VAW) 123; "Zappers" of Electronic Attack Squadron (VAQ) 130, and a detachment from Fleet Logistics Support Squadron (VRC) 40 "Rawhides."
The CVN 69 USS Dwight D. Eisenhower is a Nimitz-class nuclear powered aircraft carrier. It is the flagship for Carrier Strike Group Ten which includes three Arleigh Burke-class destroyers, a Ticonderoga-class cruiser and a carrier air wing of eight squadrons numbering around 70 aircraft. A fast attack submarine and support ships are generally attached to the group as well when deployed. The Eisenhower was the second ship constructed in the Nimitz-class and has been in service since its commissioning in 1977. It is expected to be replaced by the Gerald. R. Ford-class of aircraft carriers.
---