---
According to information published by Inquirer on March 8, 2021, the Philippine Coast Guard (PCG) planned to acquire two more offshore patrol vessels (OPV) from France to sustain its monitoring in the West Philippine Sea, PCG commandant Admiral George Ursabia.
Follow Navy Recognition on Google News at this link
---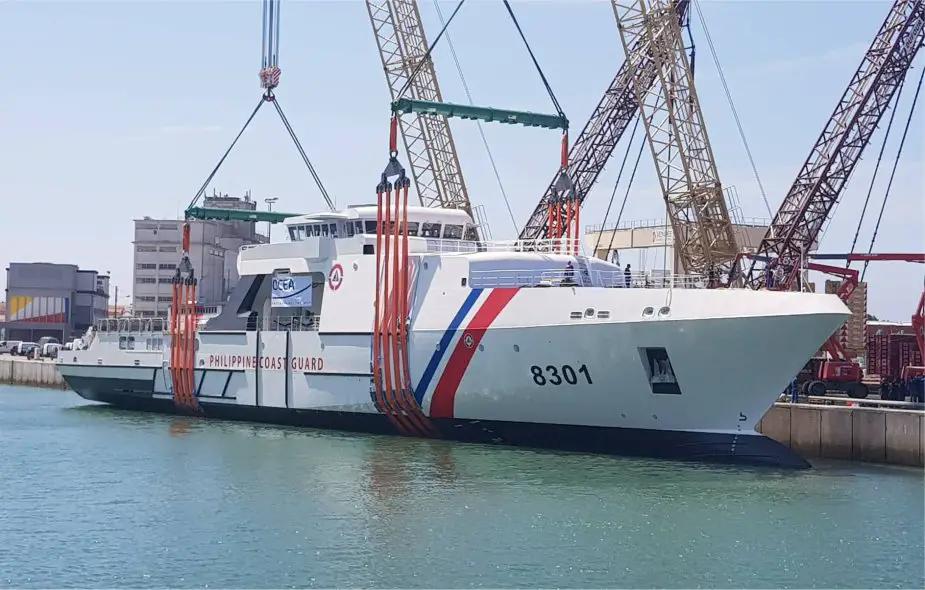 Offshore patrol vessel of the Philippine Coast Guard BRP Gabriela Silang OPV-8301 (Picture source: WIkipedia)
---
At an online press briefing, Ursabia said the PCG was setting its sights on a total of five new vessels in its inventory. There is currently just one such ship in the PCG fleet, BRP Gabriela Silang (OPV-8301) which was delivered in 2020.
The PCG flagship, BRP Gabriela Silang, is an 84-meter OPV built by French firm OCEA for P5.6 billion.
Since its arrival in April 2020, the BRP Gabriela Silang mainly helped the government's response to the pandemic by transporting stranded passengers and medical supplies. It has not been deployed so far to the West Philippine Sea.
"The Gabriela Silang is an offshore patrol vessel which is ideal for deployment in the West Philippine Sea," said Ursabia.
The ship can't patrol the entire West Philippine Sea by itself. The PCG is expecting delivery of two 94-meter patrol vessels, worth P6.7 billion, from Japan in 2022 to boost patrols.
"It needs other vessels to help her. That explains why we are getting two more of such type of vessels and this is from Japan," he said.
In addition, the acquisition of "two more of Gabriela Silang" would bring the total number of OPVs to five, Ursabia said. "With such number of such type of patrol vessel, only then that we can say that we can have patrol of the West Philippine Sea in a continuous mode," he said.
Right now we cannot because we are still in the process of gearing up the capability of the Philippine Coast Guard for such types of mission," he said.
BRP Gabriela Silang has an overall length of 84.00 m, a maximum speed of 20 knots, a range of 8000 nm at 12 knots and an endurance of 5 weeks. The vessel has a crew complement of 40 and can accommodate 26 personnel along with 35 civilian passengers.
---