---
According to a press release published by NATO on March 9, 2021, Standing NATO Mine Countermeasures Group One (SNMCMG1) conducted combat enhancement training on the Danish Weapons Naval School range, known as the MULTEX range, between 23-25 February 2021.
Follow Navy Recognition on Google News at this link
---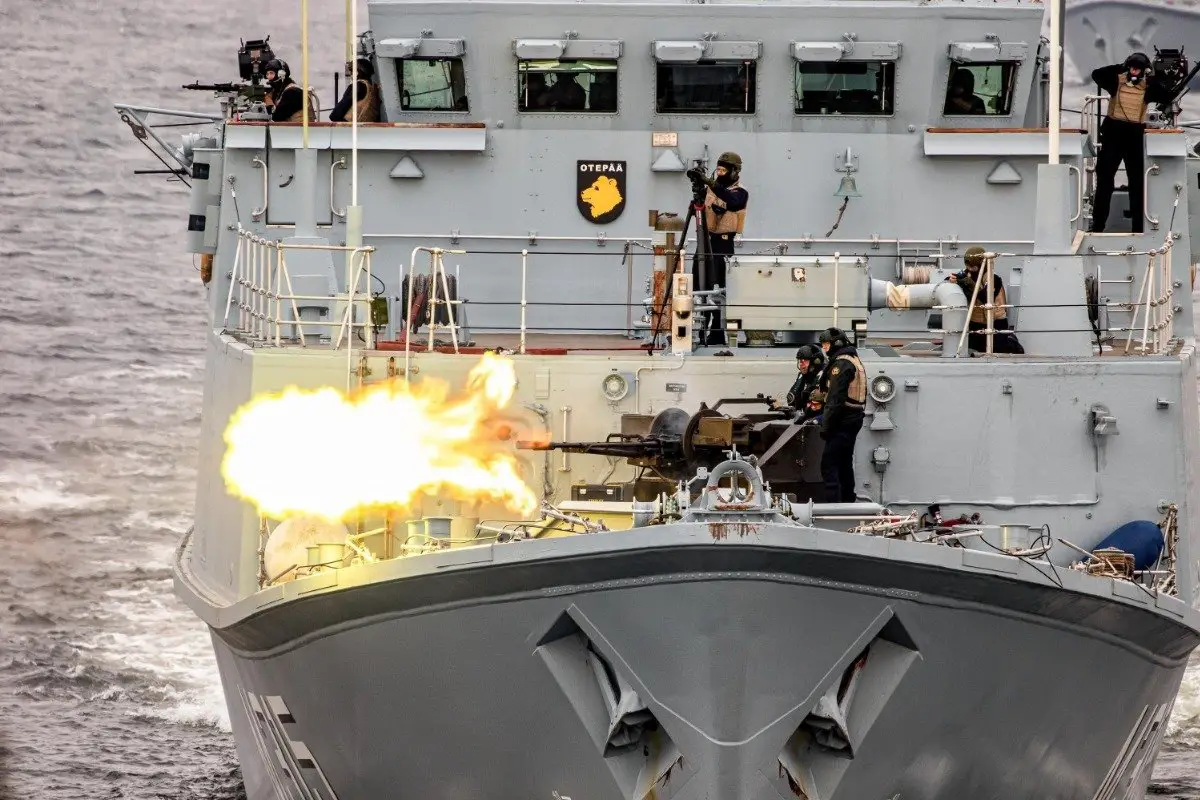 Sandown-class minehunter EML Ugandi (Picture source: NATO)
---
The training was held in close coordination with the Royal Danish Navy. During the past days all units were able to train their skills in force protection, medical treatment and damage control.
The MULTEX range provides the possibility and capability of life firing exercises. To create a realistic scenario, the ships were threatened by aerial assets and fast inshore attack crafts. During the force protection exercises all units were tested on how to manoeuvre, communicate and react to suspected threats. The units participated in a gunnery exercise with aerial, moving surface and floating targets.
"The opportunity to train force protection against a realistic and moving threat within a formation is rare. Therefore, the MULTEX range was an excellent training ground for SNMCMG1," said Commander of SNMCMG1, Commander Jan Wijchers.
After completion of the exercises SNMCMG1 sailed a navigation track through the Little Belt, one of the three Danish Straits that connect the Baltic Sea to the Kattegat strait, the North Sea and the Atlantic Ocean. Units are visiting Kiel Naval Base until 2 March.
EML Ugandi is a Sandown-class minehunter commissioned by the Estonian Navy in 2009. Ugandi is a former British Royal Navy vessel HMS Bridport built by Woolston Yard of Southampton-based shipbuilders Vosper Thornycroft.
The Sandown Class is equipped with two underwater PAP 104 mk5 remote-controlled mine-disposal vehicles, supplied by Societe ECA. The vehicle is controlled via a 2,000 m fiber-optic cable. A lighting system, low light level black and white camera and a color camera are fitted. The vehicle is also fitted with high-resolution sonar. The sensor data is transmitted back to the operations control centre on the ship.
The main payload is a 100 kg mine disposal charge which can be replaced by a manipulator. Wire cutters are used to release moored mines from the column of water above the sea bed. The mine disposal vehicles can be deployed to a depth of 300 m.
The Sandown Class is also equipped with two Barricade lightweight decoy launchers supplied by ML Aviation of Andover. The launchers are capable of dispensing infrared decoys and chaff in confusion, distraction and centroid seduction modes of operation.
---