---
According to information published by Sputnik on March 10, 2021, the Indian Navy has commissioned its third Scorpene-class submarine, the INS Karanj. Induction ceremony was attended by top Navy officials, including chief Admiral Karambir Singh.
Follow Navy Recognition on Google News at this link
---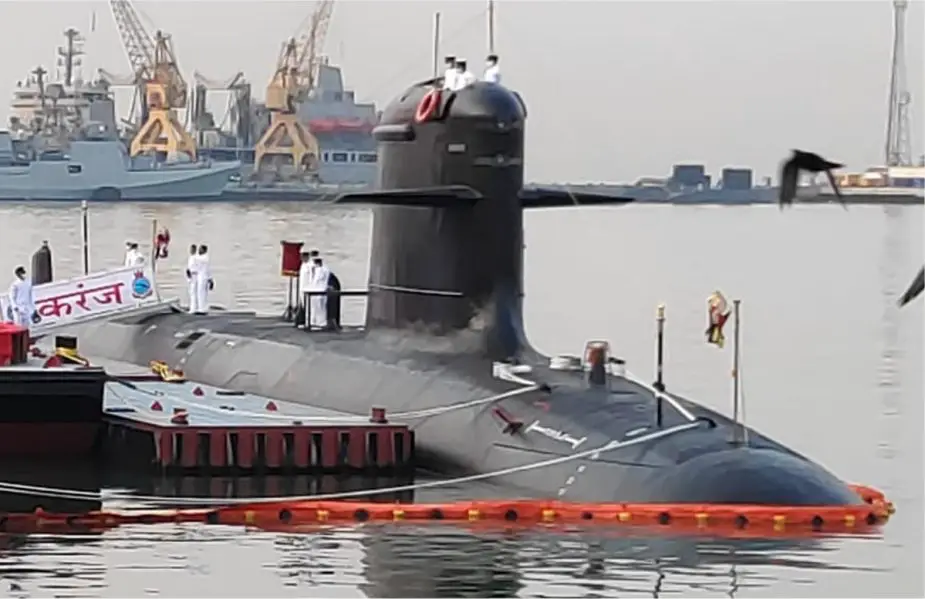 Diesel-electric attack submarine based on the Scorpène class INS Karanj (Picture source: Twitter account of TOIMumbai)
---
Mazagon Dock Ltd, the country's biggest shipyard, delivered the boat to the Navy a few days ago after two years of sea trials. The state-owned firm is assembling six Scorpene submarines in partnership with French shipbuilder Naval Group (formerly DCNS).
The Indian Navy claims the state-of-the-art technology utilised for the construction of the Scorpene class submarines has ensured superior stealth features such as advanced acoustic silencing techniques, low radiated noise levels, hydro-dynamically optimised shape and the ability to launch a crippling attack on the enemy using precision guided weapons.
The Indian Navy is in dire need of submarines: while it requires 24 conventional submarines, it only has 15, which include four HDW German-origin, Shishumar-class boats that are in their fourth decade of service. This shortfall of submarines has been exacerbated by the six-year delay in Project 75, as the Scorpene programme is called.
Asked about the rapid expansion of the Chinese People's Liberation Army(PLA) and possible challenges from it for India, the Chief of Naval Staff said the Indian Navy was cognisant of it, and was focusing on boosting its overall combat prowess including by procuring niche capabilities and unmanned solutions with its available resources.
The Scorpène-class submarines are a class of diesel-electric attack submarines jointly developed by the French Company Naval Group (formerly DCNS) and the Spanish company Navantia. The Scorpène class of submarines has four subtypes including the CM-2000 conventional diesel-electric version, the AM-2000 air-independent propulsion (AIP) derivative, the downsized CA-2000 coastal submarine, and the enlarged S-BR for the Brazilian Navy, without AIP. The Scorpéne-class submarines are in service with Chile, Malaysia, India and Brazil. Over fourteen Scorpène submarines were sold by Naval Group internationally.
The Scorpène-class submarine has two diesel generation sets providing 1,250kW of power. At the top of the hull immediately above the diesel generator sets is a Dutch Breach machinery shipping hatch. The submarine has an elastically supported 2,900kW electronic engine.
The Scorpène submarine can carry 18 torpedoes and missiles or 30 mines. It is equipped with six bow-located 21 in torpedo tubes providing salvo launch capability. Positive discharge launching is by an air turbine pump. It can launch anti-ship and anti-submarine torpedoes, as well as anti-surface missiles. The handling and loading of weapons are automated.
---