---
According to a tweet published by Japan Ministry of Defense on March 24, 2021, Defense state Minister Nakayama attended the commission ceremony for the new submarine Toryu, the 12th submarine of Soryu-class and instructed to the crew.
Follow Navy Recognition on Google News at this link
---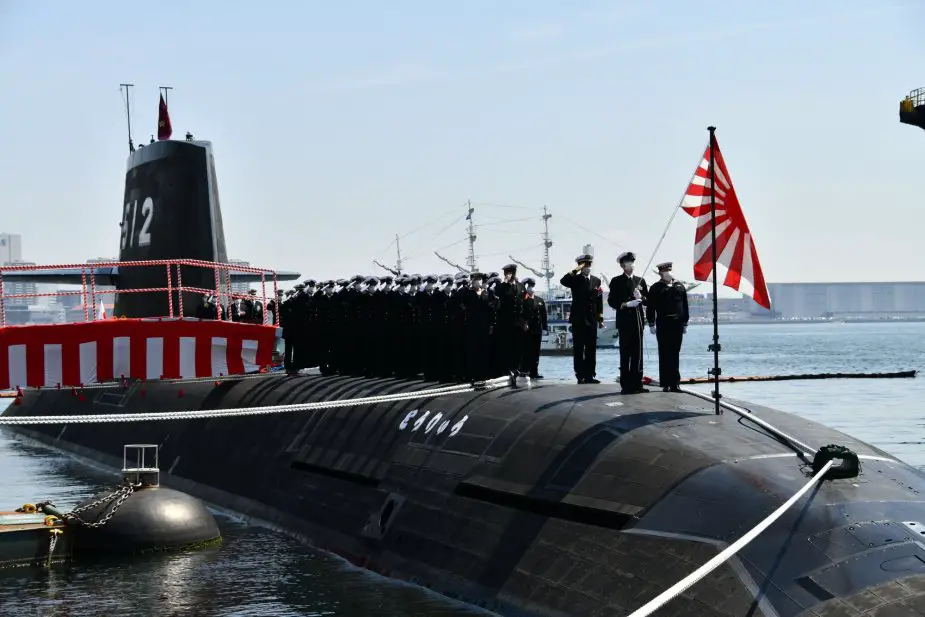 JS Toryu SS-512, the 12th submarine of Soryu-class (Picture source: Twiter)
---
JS Toryu is the 12th and final Soryu-class submarine produced for the JMSDF (the 6th built by Kawasaki Heavy Industries, the other 6 having been built by Mitsubishi Heavy Industries). Toryu means Fighting Dragon. The name of Toryu is derived from the famous scenic dragon fighting in Kato City, Hyogo Prefecture, where the torrent of the Kako River flows between strangely shaped rocks.
The ship, built for 69 billion yen, has a displacement of 2,950 tons and a total length of 84 meters and a width of 9.1 meters. It is capable of navigating at about 20 knots when submerged and 12 knots when surfaced. The power source uses a lithium-ion battery, which has excellent submarine capabilities and automates the system. The Submarine is equipped with a Kawasaki 12V 25 / 25SB type diesel engine and another Kawasaki Kokkamusu V4-275R Stirling engine four.
The Soryu-Class is a diesel-electric submarine built by the Japanese companies Mitsubishi Heavy Industries and Kawasaki Shipbuilding Corporation for the Japan Maritime Self-Defense Force (JMSDF). It is an improved version of the Oyashio Class submarine. The keel for the first Soryu-class submarine was laid down in March 2005 and launched in December 2007 and commissioned in March 2009.
The Soryu-class is equipped with six HU-606 533 mm torpedo tubes that can fire Type 89 heavyweight homing torpedoes and UGM-84 Harpoon anti-ship missiles. It has an optronic mast and ZPS-6F surface/low-level air search radar for detection of enemy ASW and maritime patrol craft, as well as the Hughes/Oki ZQQ-7 sonar suite incorporating one bow-mounted sonar array and four flank sonar arrays.
The Soryu-class submarine has a range of 6,100 nautical miles and can reportedly dive to a depth of 2,132 feet, or two-fifths of a mile.
---