---
According to information published by Indian Ministry of Defense on March 25, 2021, Indian Naval Ship INS Shardul made a port call at Antsiranana, Madagascar as part of First Training Squadron's (1TS) Overseas Deployment from 21 – 24 Mar 21. Officer trainees of the 99th Integrated Officer Training Course are embarked onboard during the ship's visit.
Follow Navy Recognition on Google News at this link
---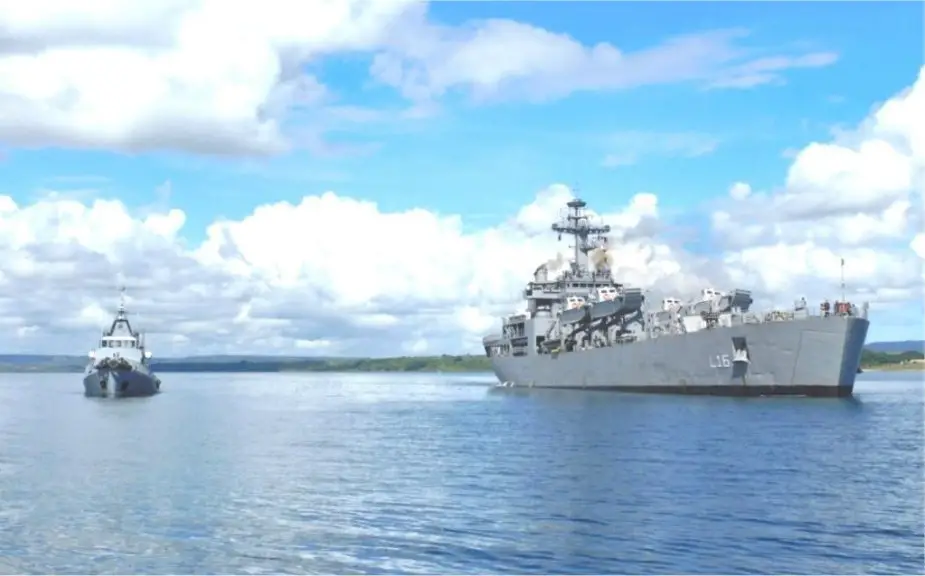 INS Shardul on completion of port call to Antsiranana carried out a Passage Exercise PASSEX with Malagasy Navy ship MNS Trozona (Picture source: Indian Navy)
---
A virtual conference with officials of Madagascar Armed Forces was held on 23 Mar 21. The conference was attended by Gen Montrogue Fitz Gerald (Chief of Ankarana Defence Zone), Captain Sam HiengTwion (Antsiranana Naval Base Commander), Capt Aftab Ahmed Khan (Senior Officer First Training Squadron) and Cdr Akshay Khanna (Commanding Officer INS Shardul). The Chief of Ankarana Defence Zone welcomed the ship and appreciated the growing relations between the defence forces of two nations. The conference was followed by a visit of Captain Sam HiengTwion, Naval Base Commander, Antsirana to INS Shardul.
INS Shardul and Malagasy Navy ship MNS Trozona carried out a Passage Exercise (PASSEX) on 24 Mar 21. The Joint exercise bears testimony to the growing bonds between the maritime forces of both the nations and aimed at common objectives of ensuring maritime security by India and Madagascar and interoperability between the two navies.
1TS forms a part of Southern Naval Command (SNC), which is the training command of the Indian Navy, headed by Vice Admiral AK Chawla, Flag Officer Commanding-in-Chief, Southern Naval Command. India and Madagascar share a strong maritime relation and visit by the First Training Squadron to Antsiranana is a step towards further strengthening the bonds of friendship between the two nations.
INS Shardul is the lead ship of the Shardul-class amphibious warfare vessels of the Indian Navy.
Shardul-class landing ships are large amphibious warfare vessels built at Garden Reach Shipbuilders and Engineers for the Indian Navy. They are an evolution of the Magar-class amphibious landing ships.
Trozona, the 30-meter long, 8-meter wide patrol vessel is one of eight vessels the Malagasy Navy uses to complete its mission of patrolling their territorial waters, conducting maritime law enforcement, rescue operations, as well as combating piracy and smuggling.
The vessel, guided by its crew of five officers, nine petty officers and 16 seaman, steamed 612 miles to participate in Cutlass Express. They did it with a single 16 cylinder, 1,000 horsepower engine, propelled by a single prop and few spare parts.
---