---
According to a press release published by Naval Group on March 29, 2021, Naval Group received notification of the order for two FDI frigates by the French Defense Procurement Agency (DGA), during a visit to Lorient of the French Minister of the Armed Forces, Florence Parly. The acceleration of the FDI program will support the activity of the Naval Group site in Lorient where the frigates are designed and built, also ensuring the preservation of skills.
Follow Navy Recognition on Google News at this link
---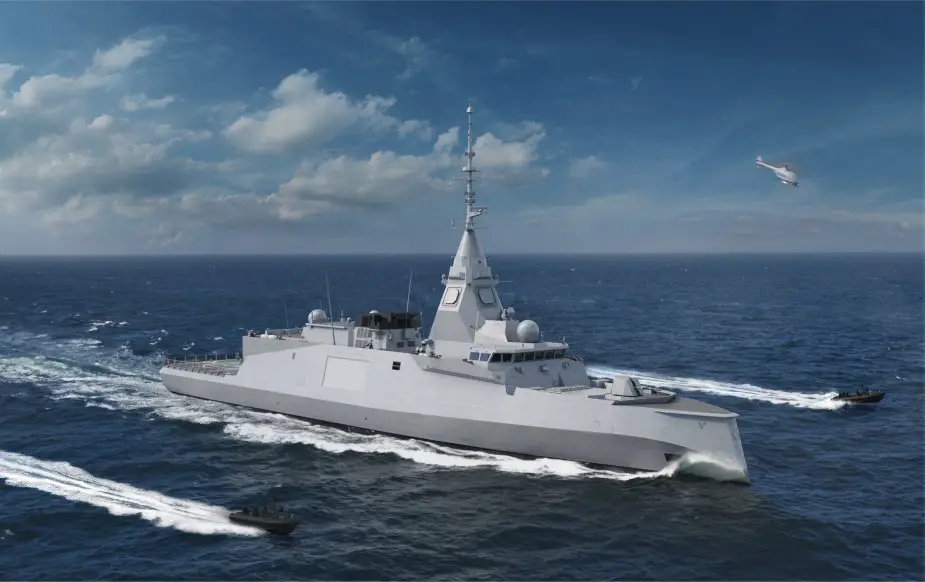 Artist rendering of the future Frigates for defence and intervention FDI  (Picture source: Naval Group)
---
The two frigates - the second and third in a series of five - will both be delivered in 2025, whereas the original plan was to deliver them every 18 months.
The first FDI, for which construction work began in 2020, is scheduled for delivery in 2024.
With a tonnage of more than 4,200 tonnes and a length of 121 metres, the FDI frigates are based on a digital and scalable architecture built around our SETIS 3.0 combat management system.
They can conduct all the missions of modern navies (anti-air, anti-surface, anti-submarine warfare or special forces projection) and address new threats such as cyber attacks and asymmetric threats.
The FDI also benefits from the best technologies available on the naval defence market, including the latest Thales multi-function radar with active antenna and fixed panels as well as a fully digital electronic warfare system.
FDI (Frégate de defense et d'intervention/ Defence and intervention frigate, the first digital native frigate, will benefit from an unparalleled level of digitalization thanks to a new IT architecture including two data centers, allowing for a very large capacity for data storage and analysis. She will also offer a new generation of equipment in terms of combat system, with increased capabilities such as Thales Sea Fire, the new generation four-panel fixed radar, MBDA's Aster missiles for air defense, a complete sonar suite with hull sonar and towed sonar from Thales for anti-submarine warfare.
Its maximum speed is 27 knots and it has an autonomy of 45 days with operational availability of 3500 hours per year. The frigate can accommodate 125 men and women + 28 passengers and will be able to carry at the same time a helicopter (capacity of 10 t, the actual helicopter will weigh 5t) and an Unmanned aerial vehicle (UAV), developed as part of the SDAM program with Airbus Helicopters.
A new bridge will allow the crew to detect any object in the close vicinity around the ship and to safely drive the ship in all situations, whether they are common (navigational, maneuvering) or threatening (asymmetric threats), by night and day. This reinforced combat system against asymmetric threats is placed in a room dedicated to threat assessment, enabling a 360° watch of the environment close to the ship and centralization of necessary actions.
FDI digital systems are natively protected. Indeed, cybersecurity on FDI is "By Design". They provide protection and defense adapted to any cyber threat the ship may be exposed to. The Cybersecurity Management System (CyMS) supervisory console has particularly intuitive man-machine interfaces. This user-friendly system offers to the operator a centralized real-time view of information on the cyber state of the platform, by gathering information from the equipment and analyzing it in detail with regard to the ship's operating modes, enabling the detection of an attack on the vessel. The software provides feedback to the operator in case of an incident. Once the corrective decision has been taken by the operator, the system makes it possible to automate and monitor the commanded actions.
---