---
According to information published by Gambiev on March 28, 2021, a fourth nationally built frigate is under construction at the Myanmar naval shipyard in Sinmalayik, Yangon. It is reported that the construction of the ship is carried out with the technical assistance of China and North Corea.
Follow Navy Recognition on Google News at this link
---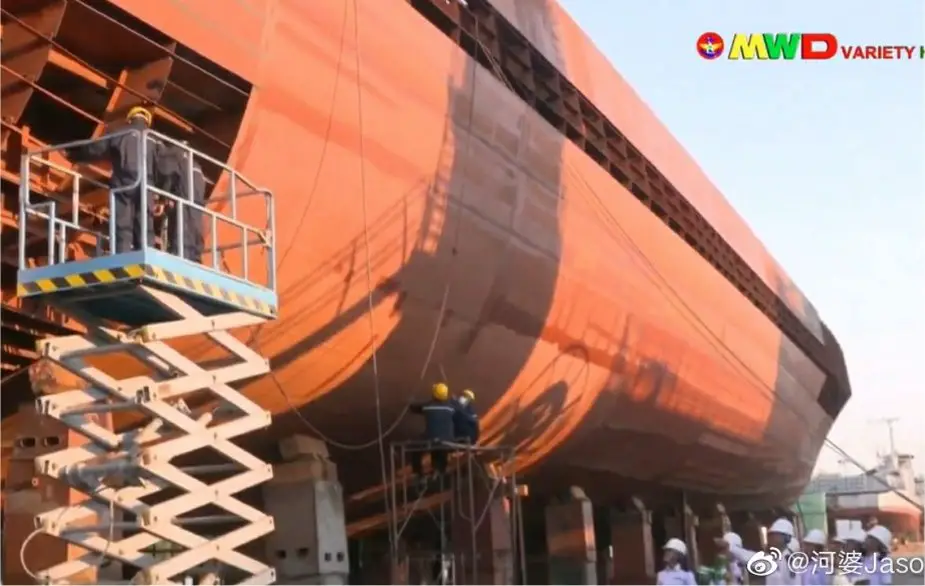 Fourth nationally built frigate at Sinmalayik (Picture source: Livejournal account of Gambiev)
---
Myanmar already owns two former PLAN (chinese) Jianghu II-class (Type 053H1) frigates
Based on an earlier Soviet Riga Class (Project 50) design of frigate the Type 053 covers a family of sub-classes with variants that were built starting in the mid 1970's until 2004. The 053H1 class was built at the Hudong Shipyard, China from 1981 to 1988.
The two frigates of 1,702 t displacement with the Myanmar Navy are now named UMS Mahar Bandoola (F-21) and UMS Mahar Thiha Thura (F-23).
The LOA is 339 ft (103 m) and beam is 35.4 ft (10.8 m) and is powered by a conventional two shaft arrangement with fixed pitch propellers. Engine power is by twin medium speed Chinese Hudong diesels type 12E390VA with rated output of 5,880 kW (7,885 hp) at 480 rpm. It has a vee 12 cylinder configuration with bore and stroke of 390 mm x 470 mm. There is also a V18 cylinder model of this series with an output of 8,820 kW used in later variants.
---