---
According to information published by Defence Studies on March, 29, 2021, the Royal Thai Navy conducted a historic firing of Harpoon Block 1C, defining a firing area in the Andaman Sea about 130 nautical miles west of Phuket (or approximately 240 kilometers) missile fired at a distance of 55 nautical miles, or about 100 kilometers.
Follow Navy Recognition on Google News at this link
---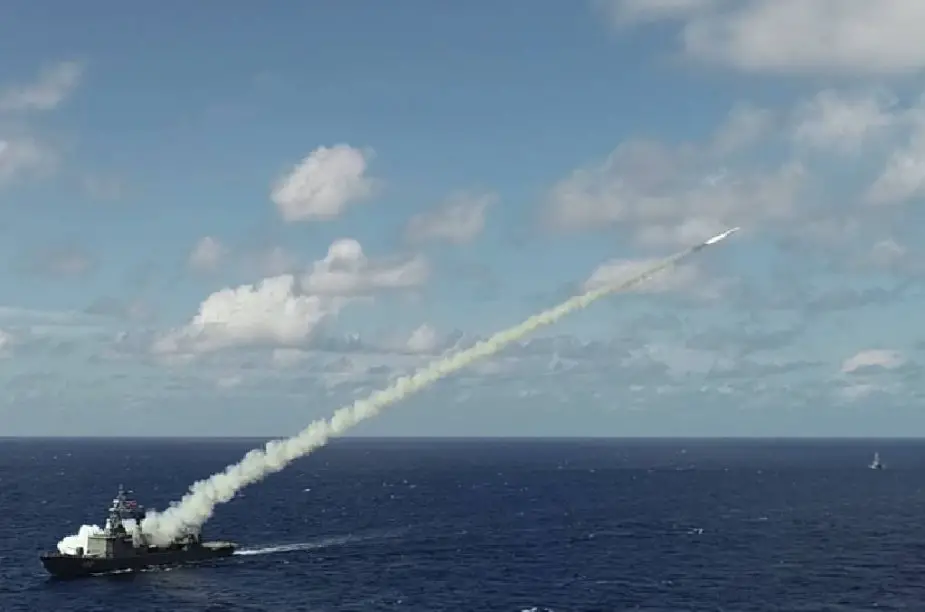 Firing of Harpoon Block 1C missile from HMTS Taksin 422 (Picture source: Royal Thai Navy)
---
The Harpoon (RGM-84/UGM-84/AGM-84) is a U.S.-designed subsonic antiship cruise missile that has been in service since 1977. Numerous variants have been produced since its inception, including air-, ship-, and sub-launched versions. The Harpoon has also undergone multiple upgrades to improve its range and guidance.
Introduced in 1985, the Blk IC differs from previous iterations in its flight path, guidance, and targeting technology.
Whereas Blk IB and IA could perform either a low apogee pop-up trajectory or a sea-skimming approach in its terminal phase, the Blk IC can perform both. In addition to improved ECCM performance, Blk IC has a relatively higher altitude in the first part of its flight path to avoid friendly ships and other land masses that may be in the missile's path. A change in the type of fuel used in the missile increased its range to 124 km.
HTMS (His Thai Majesty's Ship) Taksin (FFG 422), hull number 622, commissioned in 1995, is a Naresuan Class (FFGHM) frigate which is a modified version of the Chinese-made Type 053 frigate, designed and built by the China State Shipbuilding Corporation in Shanghai.
The frigate has an overall length of 120m, beam of 13m and a draft of 3.8m. The full load displacement of the ship is 2,900t and HTMS Taksin can complement a crew of 150.
---