---
According to information published by the Government of the UK on May 5, 2021, F-35B fighter jets operating from HMS Queen Elizabeth will join Operation Shader in the fight against Daesh.
Follow Navy Recognition on Google News at this link
---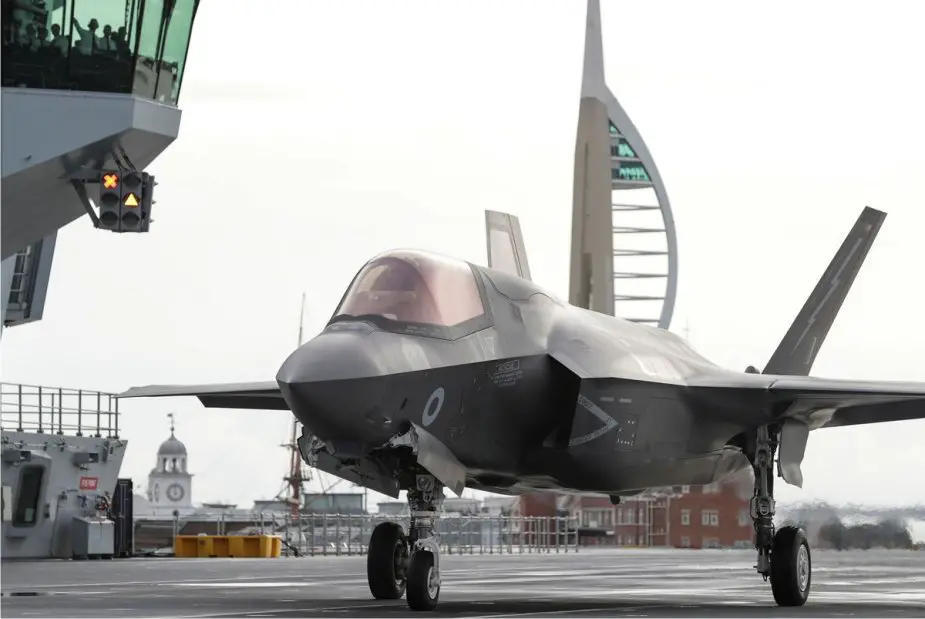 An RAF F35 preparing for take-off from the aircraft carrier HMS Queen Elizabeth (Picture source: Express and Star)
---
This will be the first time UK fighter aircraft are embarked on an operational aircraft carrier deployment since 2010, and will be the largest number of F-35Bs ever to sail the seas.
The renowned 617 Squadron RAF ('The Dambusters') will operate the jets to provide tangible and impactful support to counter-Daesh operations in Iraq and Syria.
This is a joint Royal Air Force and Royal Navy deployment which is committed to confronting persistent threats around the world and make a meaningful contribution to global security.
March 2021 saw the second anniversary of Daesh's final and total loss of territory in Syria. However, there remain significant numbers of Daesh terrorists in Iraq and Syria.
Operation Shader is the operational code name given to the contribution of the United Kingdom in the ongoing military intervention against the Islamic State of Iraq and the Levant. The operation involves the British Army providing ground support and training to allied forces fighting against ISIL, the Royal Air Force providing humanitarian aid airdrops, reconnaissance and airstrikes, and the Royal Navy providing escort to allied carrier battle groups.
The Lightning fifth-generation combat aircraft operates alongside the Typhoon. A multi-role machine, Lightning is capable of conducting air-to-surface, electronic warfare, intelligence gathering and air-to-air missions simultaneously.
The aircraft combines advanced sensors and mission systems with low observable technology, or "stealth", which enables it to operate undetected in hostile airspace. Its integrated sensors, sensor fusion and data linking provide the pilot with unprecedented situational awareness. The pilot is able to share information gathered by the jet with other platforms using secure data links, and/or use the information to employ weapons or electronic means.
The Lightning's short take-off and vertical landing (STOVL) capability allow it to operate from the new Queen Elizabeth-class aircraft carriers and the vessels of allied nations, as well as short airstrips.
---