---
According to information published by May 11, 2021, the Legend-class national security cutter USCGC Hamilton (WMSL 753) conducted a series of operational exercises with Ukraine in the Black Sea.
Follow Navy Recognition on Google News at this link
---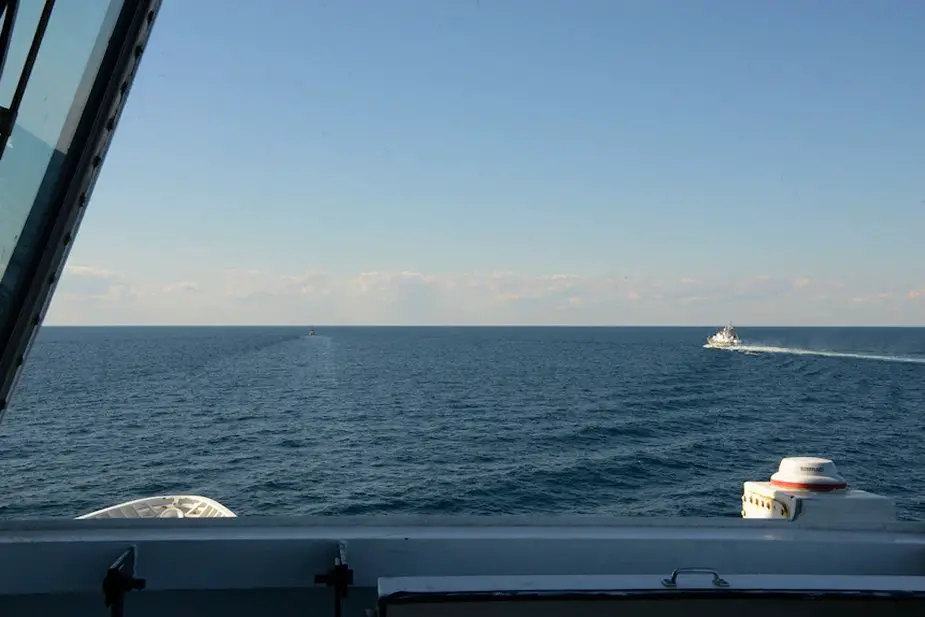 A seaman is looking out to the Ukrainian navy Island-class patrol boat Starobilsk P-241 aboard USCGC Hamilton WMSL 753 (Picture source: U.S. Navy)
---
Hamilton conducted maritime law enforcement, search and rescue, and ship handling operations with the Ukrainian navy vessel Island-class patrol boat Starobilsk (P-241). These operations were designed to increase interoperability as a part of a regional effort to bolster maritime partnerships with NATO partners.
The U.S. Coast Guard has a long and enduring partnership with regional maritime forces, particularly in strengthening maritime forces in Georgia and Ukraine. Hamilton conducted at sea engagements with Georgian coast guard and a port visit in Batumi, Georgia, last week.
Hamilton is the first U.S. Coast Guard Cutter to visit the Black Sea since 2008. The last U.S. Coast Guard Cutter to visit the Black Sea, USCGC Dallas (WHEC 716) sailed to the Black Sea twice, in 2008 and 1995.
Hamilton is the fourth national security cutter and is the fifth cutter named for the father of the U.S. Coast Guard – Alexander Hamilton, the first Secretary of the Treasury and advocate for the creation of the U.S. Revenue Cutter Service.
The Legend-class NSC is the most technologically advanced ship in the Coast Guard's fleet, which enables it to meet the high demands required for maritime and homeland security, law enforcement, marine safety, environmental protection and national defense missions.
The NSC has a length of 127 m, a beam of 16 m, and a draft of 6.9m. The ship has a Combined Diesel and (CODAG) propulsion system consisting of two 7,400 kW (9,900 hp) MTU 20V 1163 diesel engines and one 22 MW (30,000 hp) LM2500 gas turbine engine. She can reach a top speed of 28 knots/32 mph/52 km/h with a maximum cruising range of 12,000 NM/13,809 miles/22,224 km. The ship has an endurance of 60 days and a crew of 120 sailors.
The NSC is armed with one MK 110 57mm gun a variant of the Bofors 57 mm gun and Gunfire Control System, one 20 mm Block 1B Baseline 2 Phalanx Close-In Weapons System, four crew-served .50 caliber (12.7 mm) Browning M2 machine guns and two crew-served M240B 7.62 mm machine guns.
P191 Starobilsk is an Island-class patrol boat of the Naval Forces of Armed Forces of Ukraine. Originally she was named for Drummond Island, Michigan, and then renamed for Starobilsk town. Drummond was commissioned October 19, 1988, at Bollinger Shipyard in Lockport, Louisiana, and was last homeported in San Juan, Puerto Rico.
With a top speed in excess of 30 knots (56 km/h; 35 mph) and a cruising speed of 26 knots (48 km/h; 30 mph), the ship is capable of enduring unsupported operations for six days and accommodates two officers and sixteen enlisted personnel.
---