---
According to information published by Israel Shipyards on May 12, 2021, a shipbuilding and repair company in the Eastern Mediterranean serving naval and commercial marine markets won a tender to supply an East Asian Navy with its Shaldag MK V vessel.
Follow Navy Recognition on Google News at this link
---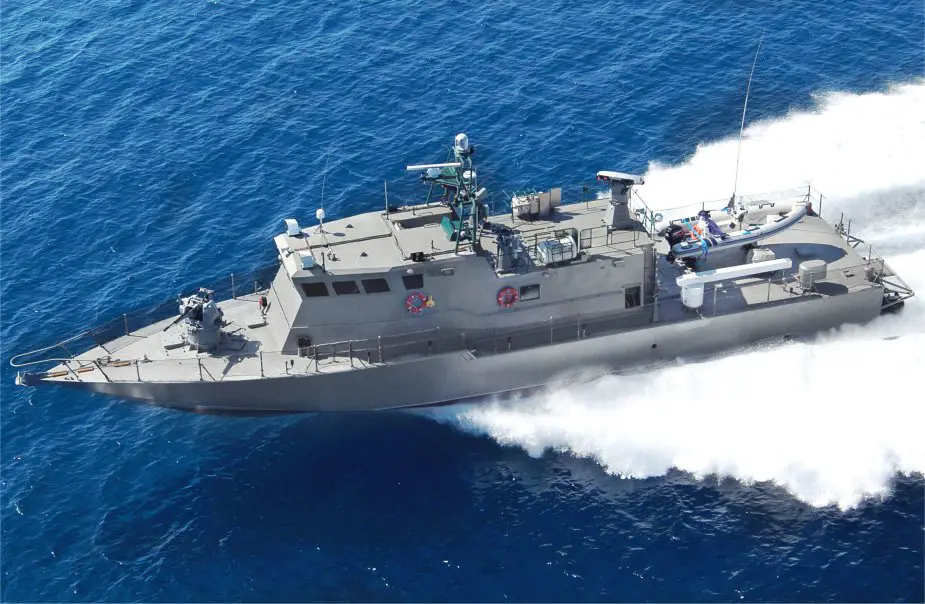 Israeli-made Shaldag Mk V patrols boat (Picture source: Israel Shipyards)
---
The Agreement ‒ which was signed between Israel Shipyards, the Israeli Ministry of Defense, and the customer ‒ includes the transfer of knowledge regarding the construction of the vessel, as well as the preparation of the customer's shipyard for vessel construction through an upgrade of the shipyard. Israel Shipyards will also conduct training at the customer's facility regarding construction of the SHALDAG MK V sections as well as maintenance of the vessel.
SHALDAG MK V ‒ the largest member of the SHALDAG Class ‒ is a combat-proven, all-aluminum, light and fast vessel with high payload capacity, providing exceptional maneuverability and seakeeping. Delivering a high firepower-to-displacement ratio, it is designed to operate in naval security missions and is a recognized leader in the protection of Exclusive Economic Zones (EEZ) and littoral waters.
The Shaldag Mk V patrols boats will be armed with a remotely operated weapon station and four boats will be equipped with guided missile weapons.
The Shaldag MK V is a small but fast class of patrol boats developed by Israel Shipyards. The version V of the Shaldag family is an improved version offering more performances and space. The Shaldag Class's largest family member is a combat-proven, all-aluminum, light and fast vessel with higher payload capacity, designed for naval security missions.
The SHALDAG MK V has an overall length of 32.65 m, a maximum beam of 6.2 m, and a displacement of 95 tons. It has the capacity to carry up to 14 crew members and can reach a top speed of 40 knots with a maximum cruising range of 1,000 nautical miles at 12 knots. The endurance of SHALDAG MK V is six days.
The Shaldag Mk V can be armed with different types of weapon systems including the Typhoon remotely operated weapon station armed with 20 or 25mm automatic cannon, 12.7mm or 7.62mm machine guns as well as short-range anti-ship missiles to engage targets at sea or on the coastline.
The Shaldag-class patrol boat is a small but fast class of patrol boats developed for the Israeli Navy and launched in 1989, it has since seen service with several other navies.
In February 2021, according to information published by the Philippine News Agency, Philippine Navy has confirmed the purchase of eight Israeli-made Shaldag Mk V fast patrol boats.
---