---
According to a tweet published by Navy Lookout on May 31, 2021, the Type 45 HMS Dragon from the Royal Navy successfully fired Sea Viper missile during At-Sea Demo/Formidable Shield.
Follow Navy Recognition on Google News at this link
---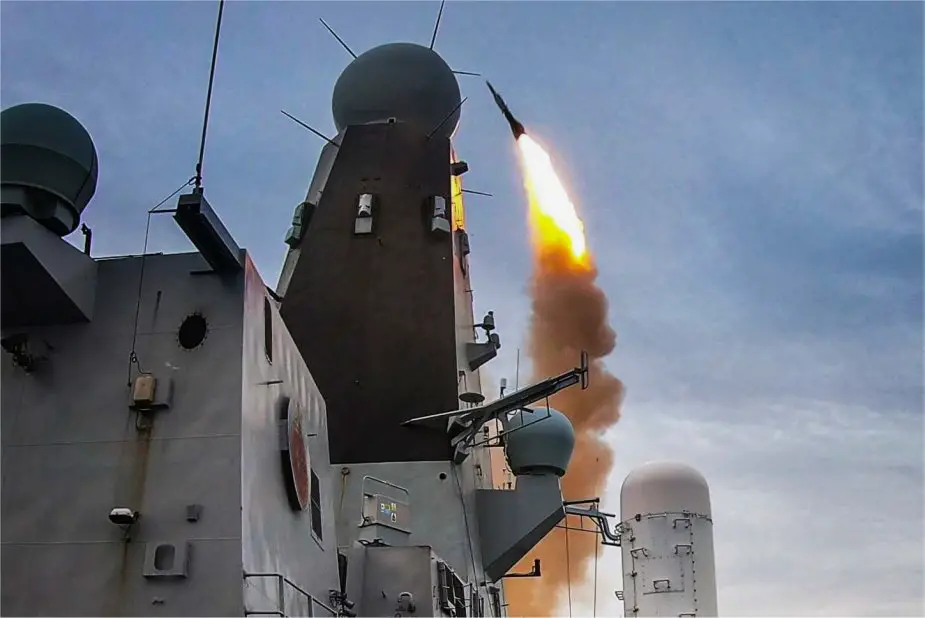 Type 45 HMS Dragon firing Aster/Sea Viper missile (Picture source: Twitter account of Navy Lookout)
---
HMS Dragon is the fourth ship of the Type 45 or Daring-class air-defence destroyers built for the Royal Navy. She was launched in November 2008 and commissioned on 20 April 2012.
The Type 45 destroyer, also known as the D or Daring class, is a class of six guided missile destroyers built for the United Kingdom's Royal Navy. The class is primarily designed for anti-aircraft and anti-missile warfare and is built around the PAAMS (Principal Anti-Aircraft Missile System) Sea Viper air-defence system utilizing the SAMPSON AESA and the S1850M long-range radars.
The missiles used for PAAMS (or Sea Viper in the United Kingdom) are the Aster 15 and the Aster 30. The Type 45 carries up to 48 Aster 15 and Aster 30 missiles. The Aster missile carries an inertial computer with datalink, an active J-band Doppler radar seeker and 15kg warhead.
The second armament of the Type 45 destroyer consists of one 114mm mk8 mod 1 medium-caliber gun system for shore bombardment and two 30mm guns. There is provision for the installation of two close-in weapons systems such as the Raytheon Phalanx.
The Type 45 destroyer has a flight deck and hangar to support the operations of a single helicopter. The flight deck can accommodate either a Lynx HMA8 or Merlin EH101 HAS 1 helicopter armed with anti-ship missiles and anti-submarine torpedoes.
The Type 45 has a crew of 191 sailors and officers make up the standard Type 45 crew, but the ship can accommodate up to 285 sailors.
The Aster missile family comprises Aster 15 for short to medium range and Aster 30 for short to long range. There is extensive commonality between the two variants with both missiles featuring the same terminal dart. Aster's terminal dart is a lightweight, highly manoeuvring and agile missile equipped with a high-performance active RF seeker. Thanks to the unique combination of aerodynamic control and direct thrust vector control called "PIF-PAF", the missile is capable of high manoeuvres. Together, these features give Aster an unmatched hit-to-kill capability.
---