---
According to information published by the U.S. Department of Defense on September 29, 2021, American Rheinmetall Systems LLC, Biddeford, Maine, is awarded a $19,986,969 firm-fixed-price contract for Rheinmetall-Oerlikon Searanger 20mm gun systems.
Follow Navy Recognition on Google News at this link
---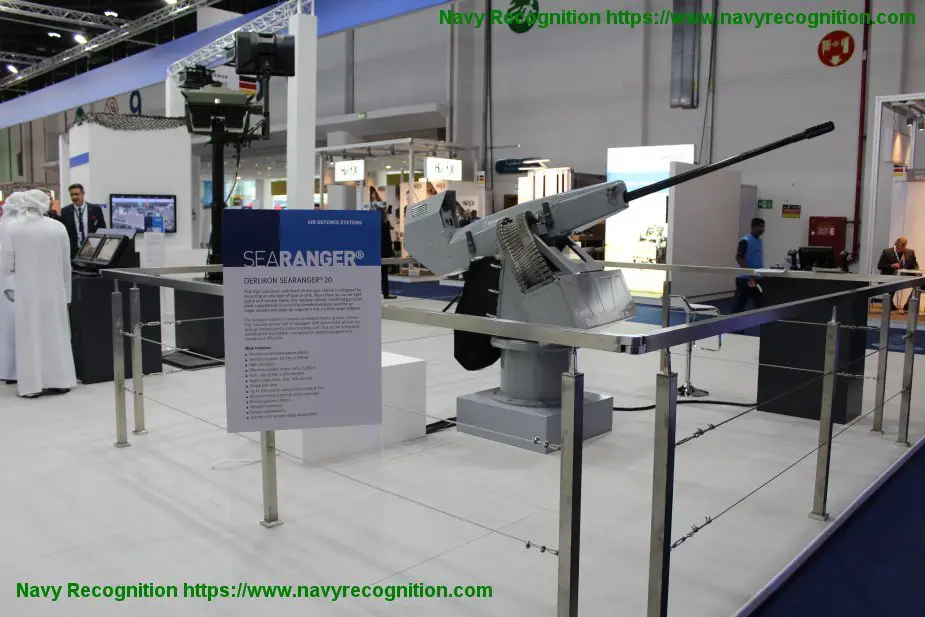 Oerlikon Searanger 20mm naval gun (Picture source: Navy Recognition)
---
This procurement includes production, spares, and training. This contract includes options that, if exercised, would bring the cumulative value of this contract to $20,201,487. This contract combines purchases for the Navy and the government of Egypt under the Foreign Military Sales program. Work will be performed in Biddeford, Maine (90%); and Egypt (10%), and is expected to be completed by March 2024.
Foreign Military Sales (Egypt) in the amount of $19,986,969 will be obligated at the time of the award. This contract was not competitively procured in accordance with 10 U.S. Code 2304(c)(4) — international agreement. The Naval Surface Warfare Center Indian Head Division, Indian Head, Maryland, is the contracting activity (N00174-21-C-0013).
This high precision stabilized 20mm gun station is designed for mounting on any type of boat or ship. Apart from its use on light patrol and combat boats, this medium caliber, fast-firing gun is an ideal complement to current automated weapon systems on larger vessels and plays an important role in close-range defense.
The gun is remote-controlled from a gunner station. The modular sensor unit is equipped with state-of-the-art electro-optical sensors and a video tracking unit. Due to the integrated stabilization and ballistics computation, target engagement is simple and effective.
The high precision Oerlikon 20 mm cannon is a very reliable weapon and simple to maintain. The belted ammunition feed contains 200 rounds ready to fire.
---